CAMILI-CAT: CHANGES mini comic is HERE!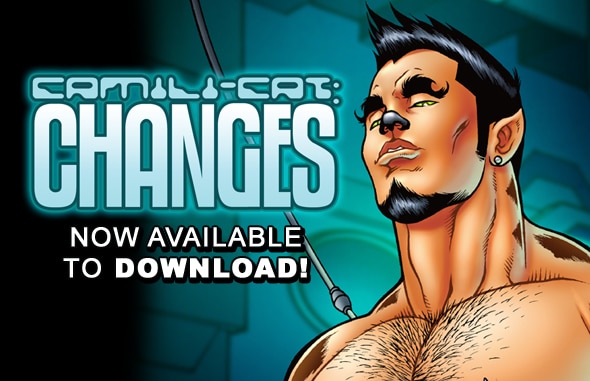 The wait is over! Now you can get your hands on CAMILI-CAT: CHANGES, the first ever Class Access digital MINI COMIC and see how your favorite Felinoid gets his shocking new look!
Cam has been trying to track down Locus, who's been on the run from the Sektan Authorities.
He doesn't want to let Locus face the Sektans alone, but he starts to doubt that his lover is actually still alive when he meets the twisted Dr Pupae. Pupae believes that males make great toys to experiment on and he gives Cam a total DNA redesign! You won't believe what Cam goes through!
This 18 page mini-comic includes the complete 8-page "Changes" mini-story, a fascinating development article by Patrick Fillion, pages of sketched concept work, alternate costume and body designs, and pinups by both Patrick Fillion and Leon de Leon! It's a MUST for Camili-Cat fans… and it's AVAILABLE NOW to download, months before it gets published as part of the up-coming RAPTURE #4! You don't want to miss this awesome advance opportunity to discover the new Camili-Cat!!!