HAPPY HOLIDAYS from Class Comics!
Seasons Greetings, everyone!
Fraser, all the Class Comics creators and I just want to wish all of you and yours a very HAPPY HOLIDAY SEASON. We are so grateful for your continued enthusiasm and support of us and our comics, and you are all greatly appreciated.
As a token of our appreciation, we want you to have the COMPLETE "PAST & PRESENT" CLASS COMICS HOLIDAY-THEMED WALLPAPER PACK.  The Pack includes 7 sexy and festive Wallpaper designs in standard and widescreen sizes, and you can download it for free by clicking this link, or clicking on the gift icon below.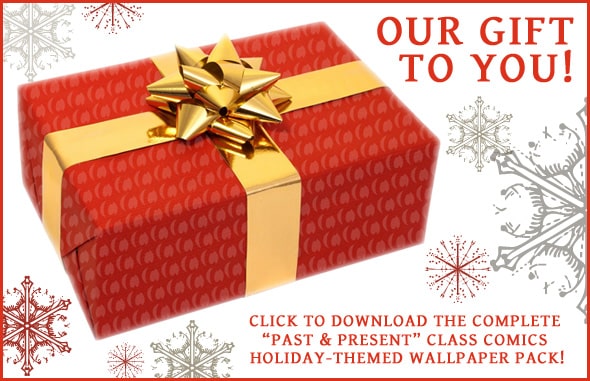 We hope that the Boytoons of the Class Comics Universe will keep you nice and warm throughout the Holidays, and we wish you all an AMAZING 2013! We'll have more awesome comics and goodies for you in the New Year, so come back and see us soon.
Warm Holiday Hugz + kisses to you all…
Patrick + Fraser XOXOX
PS — And just in case you missed it, here is the December 2012 STRIPSHOW episode, by Patrick Fillion and Jacob Mott.