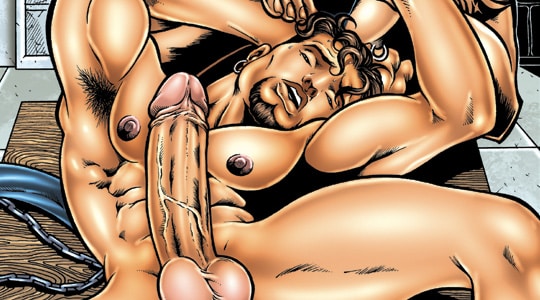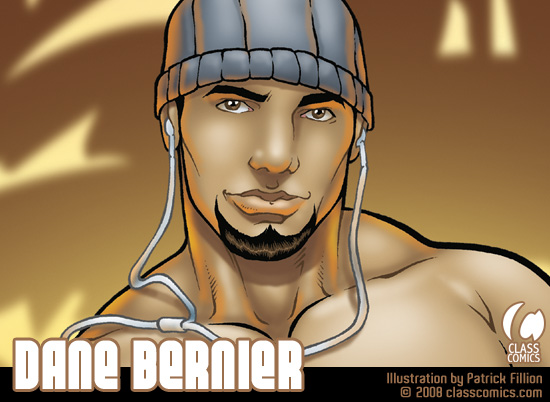 Real Name: Dane Bernier
Aliases: Babybear
Occupation: Former Graphic artist and designer, now Callboy for the SG Corp.
Base of Operations: Gateway city, the SG Corp Main Branch Building.
Place of Birth: Matanne, Quebec
Known Relatives: Henriette (mother), Regis (father, deceased), Allyson (sister)
Group Affiliation: Former Callboy of the Satisfaction Guaranteed Corporation, now co-owner of it.
Gender: Male
Sexual Orientation: Homosexual.
Height: 5'10"
Weight: 176 lbs.
Eyes: brown
Hair: brown
Penis: 10 inches, uncut
First Appearance: Bagel Beagle #1 (The Buzz, Gay and Lesbian Monthly newsmagazine, issue #1) (1998)
First Class Comics Appearance: Satisfaction Guaranteed #1, Volume #1 (1998)
Current Appearances: Satisfaction Guaranteed #1, Satisfaction Guaranteed #2, Satisfaction Guaranteed #3, Satisfaction Guaranteed #4, Rapture #1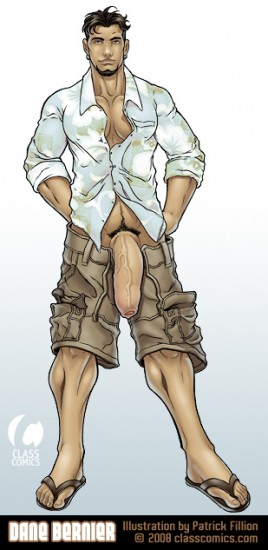 History:
Dane Bernier was a quiet kid. Growing up, he was a devout student of the arts. He went to college and studied Graphic Design, eventually graduating with honors, and going into business as a self-employed Graphic Artist.
Talent was not Dane's problem for indeed he had plenty of that. What he was less gifted at was managing his funds and small business. Being a kind soul, Dane did a lot of jobs for free, often to his own detriment. Soon the bank was looking to collect on the money they had loaned him. Financial mismanagement soon landed poor Dane's butt on the streets.
Dane moved back in with his mother and sister in the hopes of getting back on his feet. Several failed attempts left him discouraged and depressed.
It was then that he was approached by David Laburnum, a high ranking executive at the SG Corp. Laburnum offered to bail Dane out of his financial troubles, but in exchange, he would expect Dane to serve as a Callboy for the SG Corp. Dane, being desperate to rectify his situation agreed to Laburnum's terms.
Soon Dane found himself at a stylish and enormous Manor, the SG Corps' training facility just outside of Gateway city. There his training began with Mr. Grudge, another official at the Corporation. Dane showed great promise and upon completion of his training, became one of the SG Corp's most requested Callboys.
While on assignment, Dane met and fell in love with a client named Nathan Tribbs. Tribbs was the first man in many years to treat Dane with respect and genuine affection, a distinct change from his recent treatment at the hands of Laburnum and the SG Corp's management. Dane desperately wanted to continue seeing Nathan on his own time, but the SG Corp's policy on such matters was very clear: this was explicitly forbidden.
Desperate to be with the man he loved, Nathan Tribbs used his considerable fortune and bought the SG Corp, making Dane his equal partner and freeing him from his life as a Callboy.
Not wanting to screw up this opportunity, Dane turned management of the SG Corp over to 2 of his most trusted friends, Elias Shelby and Stephane Sol. Shelby and Sol have since implemented several changes within the Corporation which have vastly improved the working conditions of the Callboys it employs.
Dane and Nathan remain together and very much in love. They have plans to get married in the very near future.
Powers and Paraphernalia:
None
Notes:
Dane is kind hearted, but extremely naïve, this is perhaps why the more hard-core clients of the SG Corp are always requesting him. There is something tragic about his character, but his spirit seems indomitable, always ready to overcome any hardship.
Early on in his career as a Callboy, Dane became romantically involved with fellow Callboy, Elias Shelby. Since such affiliations are greatly frowned upon by the officials at the Corp, Laburnum intervened and arranged for the two young men to separate. Since then, Dane and Shelby have gone back to being co-workers and remain good friends.