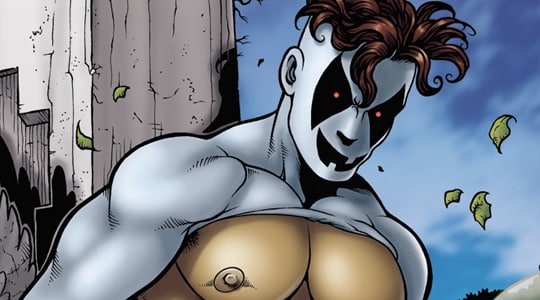 Real Name: Peter Goldman
Aliases: Ghosty, Casper, Ghostgirl
Occupation: Guardian of the Cube, Adventurer, former gymnast
Base of Operations: Gateway City, Darque Manor.
Place of Birth: Gateway City
Known Relatives: Sylvia Goldman (mother), Omar Janus (Father), El Toro Janus (Uncle)
Group Affiliation: Member of the Guardians of the Cube.
Gender: Male
Sexual Orientation: Homosexual.
Height: 5'11"
Weight: 175 lbs.
Eyes: brown
Hair: brown
Penis: 9 inches, cut
First Appearance: Cube #1, volume 1 (1995)
Current Appearances: Guardians of the Cube #1, Guardians of the Cube #2, Guardians of the Cube #3, Guardians of the Cube #4, Guardians of the Cube #5, Naked Justice #1, Naked Justice #2, Rapture #3, Boytoon Adventures #1
History:
Peter Goldman was born to Silvia Goldman and Omar Janus, a free-spirited Mediterranean vagabond. Soon after their son's birth, Omar abandoned Silvia to raise the child by herself. A single Jewish mother, Silvia worked hard to give her son the best education and childhood her meager earnings could afford.
As a young adult, Peter began to train as a gymnast, and soon revealed that he had a natural aptitude for the sport. It was not long after that that Jeanne Darque, wielder of the mysterious Cube, came to see him. The Cube, as it turned out, had selected Peter to receive amazing powers, and thus become one of its Guardians. With his new-found abilities, Peter would henceforth be known as Ghostboy. Since his transformation, Ghostboy has been under the direct guidance of Jeanne Darque, who in turn treats him like a son.
Since meeting Naked Justice, Ghost Boy and the scantily clad hero have become intimate. Their relationship was put on hold after Ghostboy's body was usurped by the vile Daddy Longlegs. The villain transferred his own essence into Ghostboys' body, leaving the heroes' spirit to wander the astral plane until it would presumably die. But Ghostboy's spirit did not perish. Instead, it found refuge within the body of a recently deceased woman.
Now flesh and blood once again, Ghostboy (who at this point gets referred to as "Ghostgirl") has vowed to make Daddy Longlegs pay for what he did, and to reclaim his male body permanently.
Since returning to the Guardians of the Cube as in the form of Ghostgirl, Ghostboy has been searching for leads on his male body. Meanwhile, Naked Justice has not been able to get intimate with his lover while he has been trapped in his current female form, and this has caused severe stress on their relationship. Whether the heroes will be able to overcome this obstacle remains to be seen.
Powers and Paraphernalia:
Ghost Boy has the ability to dematerialize his molecules. He can phase through solid objects, simulate flight, and disappear, becoming completely invisible. He is extremely agile and athletic, and continues to improve his hand-to-hand combat skills.
Interestingly enough, in the body of Ghostgirl, Ghostboy has manifested several new abilities. As Ghostgirl, he can project bizarre "energy ghouls" which act like heat seeking projectiles. They are capable of homing in on their target and of correcting their trajectory in order to reach it.
It has yet to be determined if he possesses other new abilities as Ghostgirl, or if those abilities are likely to manifest themselves in his male body, should he ever regain it.
Additional Notes:
Ghost Boy is "out" to everyone but his mother: his mother means the world to him, and Ghost Boy cannot bear the thought of losing her. Silvia is extremely conservative, and has a rather unyielding temper. Therefore, he has always avoided confronting her about his true sexual orientation.