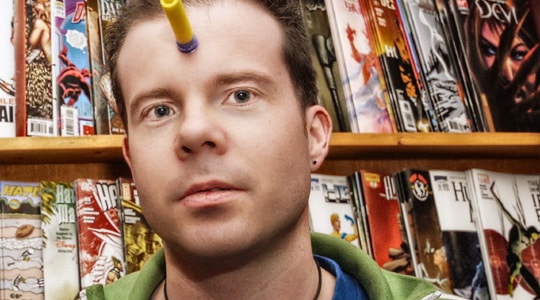 Fraser created Class Comics 6 years ago with his partner, Patrick Fillion. Together, they have created some of today's hottest Gay Male Erotic titles, and continue to work with a variety of other talented gay comic artists and writers, such as Logan, HvH and Max', to name just a few.
While Patrick busies himself with creating new artwork for Class Comics, Fraser or "Fraz" as his friends call him, handles the vast responsibilities of running the office and making sure the roof does not collapse on their heads. He also looks after communications with other artist.
When he is not swamped taking care of business-related things, Fraser is hard at work developing his own books for Class Comics. His first title called The Initiation is all about college life and campus shenanigans. Fraser wrote the Initiation with "real guys" in mind, feeling that the superhero genre was well covered by Patrick already. "The Initiation" was written by Fraz, and illustrated by Class Comics newcomer, Joseph Hawk. Together, Fraz and Joseph have produced what Patrick calls "one of Class' hottest books yet"!

The Initiation is now available for purchase. Meanwhile, Fraz continues to be involved in all Class Comics projects and their directions, and is already hard at work on another title which features a "James Bondian" character whose exploits are nothing short of sex-drenched. But as is the case with all of Class Comic's books, this title will also offer up a compelling and exciting story for the readers to sink their teeth into.