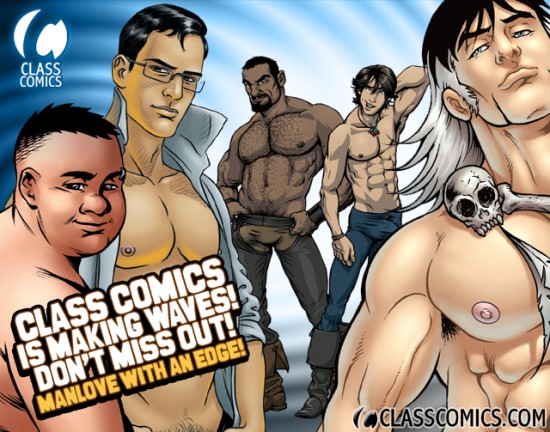 UPDATED October 29, 2012.
Are you interested in working with us and joining the Class Comics team? We welcome your submissions, provided each proposal adheres to our submission guidelines. Here's what you need to know before submitting your work. Please note that we have made numerous changes to our submissions guidelines, effective October 29, 2012 Be sure to read everything over very carefully. All submissions must be sent to us electronically.
CREATOR-OWNED PROJECTS
Class Comics is a publisher of Gay Erotic Comics. We are always looking for quality creator-owned projects that feature prominent gay characters and adult themes. We are not currently looking for projects without adult content.
Our goal is to broaden the line of Class Comics titles to include works by other creators. Your project should feature a strong Gay overtone, and must be adult-rated. Projects featuring prominent Gay characters and themes but not containing adult, sexual content will NOT be considered at this time. Please do not send anything of this nature. Remember who you are submitting work to. SEX is a big part of Class Comics, and while we also look for compelling stories, your project should be drenched in sex appeal, and feature as much nudity and sexual themes and action as possible.
Ideally, your project will be 24 pages in length. We will consider projects that are longer than 24 pages, but the 24-page comic book format is what we are generally looking for. A series of up to 3 books can be proposed, with each individual issue being 24 pages in length.
We require at least 8 fully completed pages in color in order to consider a project for possible publication. The first 8 pages of the first book are preferred as it helps us properly assess things and get a better sense of the project.
Please also include a brief story synopsis/plot outline that is no more than a couple of paragraphs long. Character studies and brief bios are helpfull as they help give an even broader overview of your project.
Don't forget to include your name, address, e-mail address and/or a phone number at which you can be contacted.All submissions must include attached writer and artists/colorists. We will not consider projects that do not have complete teams of involved creators, or that are created using Poser and other 3D rendering programs and software.
PLEASE DO NOT SEND SCRIPTS.
ARTISTS
We are currently looking for independent artists to work on Class Comics projects — That is projects written by Class Comics and featuring Class Comics characters. Any artists wishing to submit samples for consideration are encouraged to submit drawings of Class Comics characters, but can also submit pieces that do not directly depict Class Comics characters. Essentially, we want to know that you can draw our characters and that if you are hired to work on a project, our characters will be properly represented and recognizable. Remember that you're trying to impress us, and we are primarily interested in seeing how artists draw Class Comics characters.
Also, make your submissions as sexy and exciting as possible. Put your best foot forward. The first impression is always the most important.
ARTISTS PLEASE NOTE: We do not offer portfolio review services.
Class Comics is not looking for inkers at this time.
WRITERS
Class Comics does not accept scripts or idea proposals from writers without an artist firmly commited to the project. We categorically do not accept scripts regarding our characters as we control our characters' destinies!
We don't have a reserve of artists who we assign to scripts. Generally we publish projects done by artists or artists/writer teams. This means that if you have an original story idea, but no visuals for it, then partner yourself with an artist and CREATE THAT COMIC!
You might want to poke around a bit on www.digitalwebbing.com/talent/ or www.deviantart.com/ or yaoi.y-gallery.net/ and see if you can find someone with the same interests. We are happy to look at partially completed projects and consider them for publication upon completion.
We don't look at unsolicited scripts as it sets up potential for problems later on, should some of our projects bear an unintentional resemblance.
HOW TO SUBMIT
PLEASE NOTE: We NO LONGER accept artwork submissions via email.
Submissions must be sent electronically. You can upload your files using our DROPBOX.
Once your work is uploaded, please contact us and let us know that it's there. You can reach us directly through our CONTACT PAGE.
This e-mail address is being protected from spam bots, you need JavaScript enabled to view it
WHAT HAPPENS AFTER YOU SEND IN YOUR SUBMISSION
If we have an immediate interest in your work you will be contacted. If anyone on the Class Comics staff has even the slightest interest in your work your submission will be kept on file for future reference. No immediate response from us does not necessarily constitute a rejection. It can take some time to review submissions and consider them thoroughly, so please be patient.
On the other hand, if you're sending a submission cold and we're not currently interested, we may not be able to get back to you right away. That said, if we like your stuff and have a place for you, you will hear from us.
Thanks for your interest in submitting material to Class Comics!