Rapture #3 is now available for pre-order at your favorite local comic book shop.  This issue features 3 wicked stories by some of your favorite Class Comics creators.
Learn of Ghostboy's ultimate fate in a story called "Walk in my Shoes".  Will our hero get his male body back or will he be trapped in Ghostgirl's form forever?  Written by Patrick Fillion and gorgeously illustrated by Class Comics new comer Eric Mars, this story holds the answers Ghostboy fans have been waiting for since the release of Guardians of the Cube #5.
Meanwhile, Naked Justice and Space Cadet attempt to discover Vallan's true motives in "The Great Satyr Caper" part 2. What is the Satyr really up to, and will Naked Justice believe a word he has to say? This story written and illustrated by Patrick Fillion begins a bold new chapter in Space Cadet's life.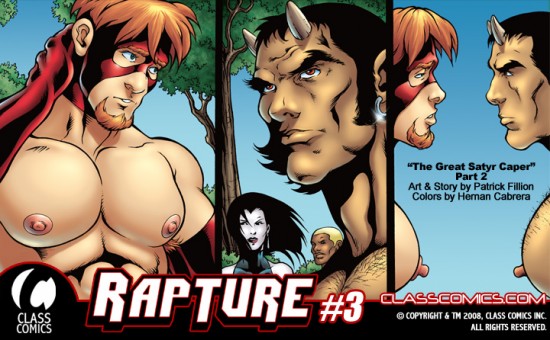 Our third story is a very special Deimos 10-pager, written by Patrick Fillion and illustrated by Spubba the Mad. "The Coin" will have Deimos learning more and more about his allies, and even making some new ones.  But some truths come at a price. Is the repentant demon ready to pay it?  The evil Marmadjon doesn't think so!
Fans will not want to miss this very crucial issue which will send ripples through the Class Comics universe that will affect some of it's key characters in unforgettable ways!
Pre-order Rapture #3 (Diamond Previews Adult code NOV083902) directly from your local comic book shop, and stay tooned as we reveal this issue's fantastic cover by Patrick Fillion very soon.