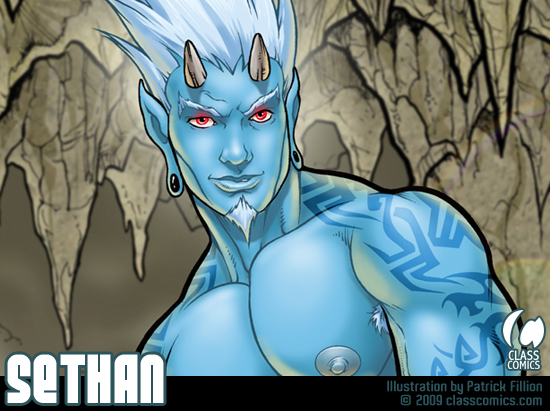 Real Name: Sethan
Aliases: None
Occupation: Demon, soldier of Hell, former lover of Deimos
Base of Operations: Hell, occasionally Earth
Place of Birth: Not applicable
Known Relatives: Not applicable
Group Affiliation: Sethan serves Bob, the Dark Lord of Hell
Gender: Male
Sexual Orientation: Homosexual
Height: 6'1″
Weight: 234 lbs.
Eyes: Red
Hair: Silver
Penis: 12 inches, uncut
First Appearance: Deimos #0 (2004)
Current Appearances: Deimos #0, Deimos #1, Rapture #1, Rapture #3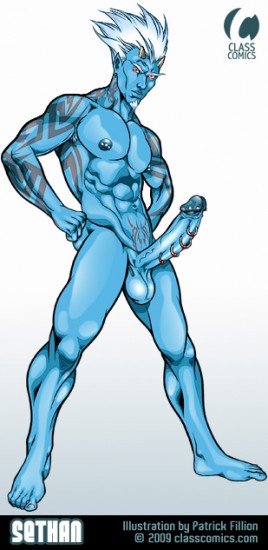 History:
Sethan is one of the angels that followed Bob into Hell when the Prince of Lies was cast out of Heaven.  There, Sethan and the other fallen angels were transformed into demons: footsoldiers of evil, imbued with powers fuelled by the darkness of men's souls.    Despite their powers, these demons cannot permanently cross over into Earth's dimension.
Sethan is no exception, and in order to remain corporeal on Earth, he needs to find a human of tremendous power whose life he can sacrifice in a ritual of crossing over.
Refusing to believe that his former lover had betrayed Hell, Sethan approached Deimos to perform the ritual of crossing in his name.  This would have permitted Sethan to venture from Hell to Earth anytime he pleased.
Unfortunately for Sethan, Deimos was under Heaven's orders to prevent the ritual, and to save the intended sacrifice from certain death.  Sethan's plans were thwarted, and the demon faded from Earth's plane of reality, and returned to Hell.  But Sethan was determined to cross over to Earth permanently.
Recently it appears that the sexy blue demon found a way to do just that.  Recent reports suggest that Sethan can now dwell in Earth's plane of existence indefinitely.  How he has accomplished this task has yet to be revealed.
It also appears that Sethan has now joined the demoness Azagoth in a plot to destroy Bob once and for all.  Sethan has begun harboring feelings of resentment toward the Dark Lord who takes every opportunity to vent his frustrations on Sethan.
Sethan also appears to be struggling with his feelings for Deimos.  Deep down, he still loves him immensely.  Whether Sethan will act upon those feelings and seek Deimos out remains to be seen.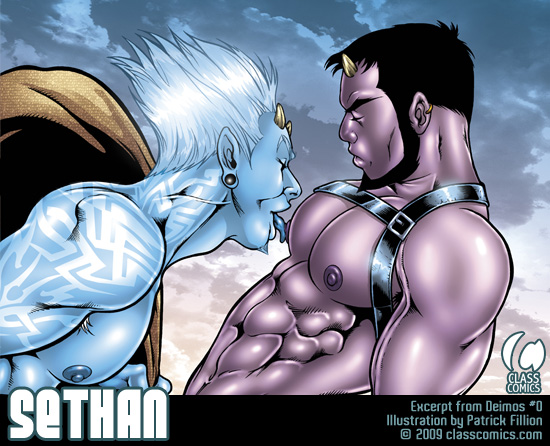 Powers and paraphernalia:
Like all demons, Sethan possesses incredible strength, agility, endurance and heightened senses.  He is a skilled hand-to-hand combatant and can wield most forms of weaponry with deadly accuracy.  Sethan's body is covered in ornate tattoos which double as symbiotic demonoids that can leaps from his flesh and attack his foes.  These tattoos are razor sharp, shredding anything in their path.  However, Sethan is unable to unleash these demonoids unless he is at full strength: either in the dimension of Hell, or completely corporeal on Earth.