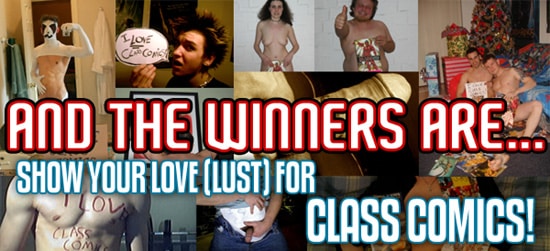 Our contest is now closed and the votes are in! We threw caution to the wind and kept ALL the entries in for the final vote. We couldn't possibly narrow it down to our top five ourselves, so we let the readers decide!
And the winner are…
1. Christmas Tree Fun
2. Sweet Ass
3. Ghostboy in the Flesh
4. Hair's to you! Winner of the special Patrick Fillion Creativity Award.
We had an absolute blast with this contest and hope that you did as well! The gallery of entries will have a permanent home on our website, so stop by and check them out!  Thanks so much to everyone who participated!  You all did a terrific job and you are all INCREDIBLE CLASS COMICS FANS in our eyes!!!
We are already working on our next contest which will have you flexing a different set of creative muscles!
Click on the pics below and scroll through all the entries. Consider the effort, the creativity, the content, the style, the beauty and the grace of each one!