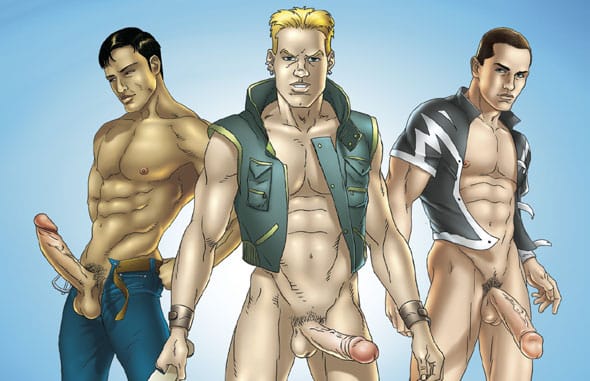 Vancouver, BC – Class Comics Inc.
Class Comics is proud to launch the second volume of The Initiation! If you enjoyed the Initiation #1, you are going to love this second issue! It's packed with a ton of hot college guys, more intense erotic escapades, and a stunningly hot conclusion that will leave you begging for a cigarette!
It's the second year of young, hung and full of cum fraternity fun! Read on if your idea of a good time includes giant orgies, swim team shaving, sexual experimentation… and revenge!
Having earned a bit of power and respect at Zeta Mega Phallus, Alex has come up with a challenge for the new froshes that will have them showing their junk all over town!
Meanwhile Dylan has joined the swim team to get closer to the lean swimmers' bodies and keep an eye on one of the more promising froshes. It's a great thing that shaving each other's entire body is all part of team spirit!
Bradley has been dumped for Dylan and attempts to get revenge on Alex. He hires a local skinhead to restrain his former student while he molests him in every possible way.
Check out the preview pages, wallpapers & other goodies at the official Mini Site!
Written by Robert Fraser and illustrated by Joseph Hawk
BOOK 1 $9.00 24 pp in Color ISBN 978-1-897102-36-7

BOOK 2 $7.99 24 pp in Color ISBN 978-1-897102-46-6 NEW LOWER PRICE!
---
About Class Comics Inc.
Class Comics is an independent comic book publisher that has managed to capture the imagination of thousands of readers who have hungered for quality gay erotic comics since they first fantasized about the contents of Spider-Man's tights.
While erotic, our comics focus on story, characters, cutting edge art and quality production! In addition to publishing our own in-house titles, we have a growing number of artists and writers that we love to work with.
Recently creators such as C.J. Evans, Silvano, Benoît Prévot, Logan, Zan Christensen, Mark Brill, Max', HvH, François Peneaud, Carlos García, Ismael Alvarez and Butch McLogic have teamed up with us to further diversify the gay comic book fan's reading choices. And we have more on the way!
Our comics are available directly through our website, as well as through your local GLBT bookstore and favorite comic book shop. Ask for us by name… you'll be glad you did!
---
Our Press Info section includes text, web ready images and promotional art. Please feel free to use this material to help us spread the word about this terrific new title. Let us know if there is anything else you might need to promote or stock this book.
---
Contact us:
[email protected] or download press packs: WWW.CLASSCOMICS.COM/PRESS
Class Comics Inc. 21092 RPO Westwood Plateau, Coquitlam BC V3E 3P9 Canada