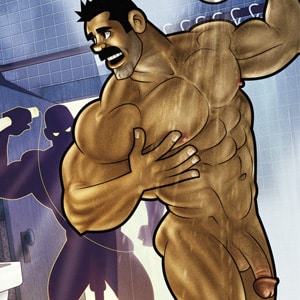 The Class Access Digital Editions of the highly acclaimed Brother to Dragons #1 and In the Blink of an Eye #1 are now available for download by Mac users.
Created by the talented team of writer François Peneaud and artist Carlos García, Brother to Dragons #1 is a wonderfully rich comic placed in the middle ages and brings Class Comics to a land it has never been before. In this place, Dragons are worshipped as Sacred Beings, and sex between men takes on a divine aspect.
In the Blink of an Eye #1 was beautifully crafted by artist/writer HvH and contains three very different stories loaded with hot and heavy sex… all are trips into a mysterious landscape of gorgeous muscled men, who's reality will be changed… in the blink of an eye.
These digital editions are loaded with cool extras such as conceptual artwork, behind the scenes information and a ton of other wicked stuff.