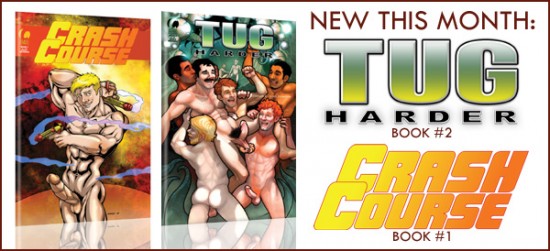 Our first comic book offerings of 2010 are here: Tug Harder #2 and Crash Course #1 are now available for purchase in our catalog section.
Tug Harder #2 picks up immediately after the events of the first issue.  After being rescued from an angry mob of horny rednecks by an alien force, Tug photographs his way through the mother ship and discovers a plot so big, it could impact the entire human race!
The farmhands have also been taken with him, and they're "experimented" with in the most unthinkable of manners! There are unexpected, but not unpleasant side effects to these experiments however!
Written and illustrated by Butch McLogic, Tug Harder #2 is hot off the press and just waiting to fall into your hot and hungry hands!
Crash Course #1 is a fast-paced space adventure about Crash, a young man with a big dick and nothing to lose, and his robot sidekick Rockstar. It's a big galaxy filled with hot and hunky guys, spaceships, laser guns, and bounty hunters! Join Crash on the run as he tumbles in and out of beds, gunfights, and space battles. The biggest question is: Is Crash running toward the future, or away from the past?
Written by Johnny Murdoc, illustrated by TJ Wood and colored by Lizz Ventura, Crash Course #1 is a fantastic first issue introducing you to a galaxy of hot new characters.  You won't want to miss this one!
For more info on Crash Course #1, check out the awesome new mini site!
For more info on Tug Harder #1 and #2, check out the newly updated mini site!  You'll love our wicked animated Tug Harder trailer!