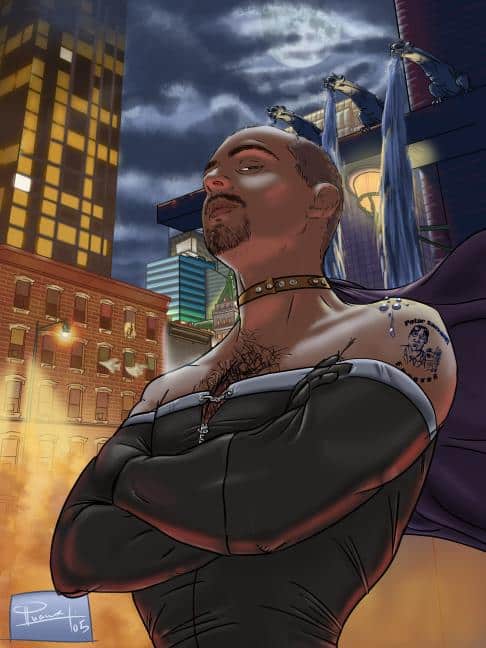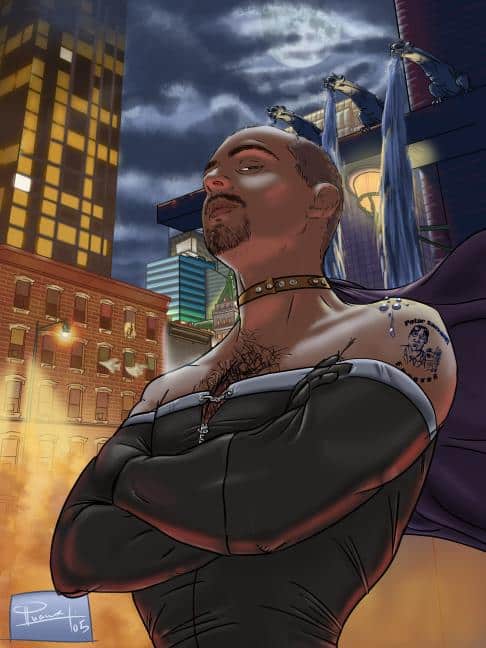 I was born when the Village People's YMCA was on the top of the charts, in march 1979 on the West coast in small French town. I used to draw a lot when I was a child, and I really enjoyed it. When I was 9  I asked my sister to draw for me a character of the anime Saint Seiya with the videotape recorder on pause, but she refused! Because, or thanks to this,  I decided to draw it myself… I found out could draw!  Since that day I have never stopped.
For 4 years I studied painting in out-of-school activities, and started to draw comics when I was 11. As I always wanted to do animation and cartoon, I chose a cinema high-school in Angoulême. This was a good way to complement to drawing, as I learned how to compose a frame, tell and write a story or analysing images.
I went to Bordeaux in 1998 to study art in the Art Faculty and stayed 5 years. Good place to learn how to analyse your own work and Art History. Then I had to work! So I began doing leaflets or posters for bars, clubs, saunas or theatres.
I was most influenced by manga and japanese anime, but it has often had a bad reputation and I was not that supported that much by teachers, so I finally tried to slowly turn to more realistic style. I love switching from digital colors to watercolor or colored ink, as well as oil on canvas but I really enjoy black and white too. Usually people say that my style is very cinematographic. I guess it's true because when I'm composing a frame or a page I'm acting like I'm having a camera and try to choose the best angle. Making sure the each frame is responding to the one before.
I don't know how many comics I've created over the last 15 years but more than 1500 pages that's for sure. Most of the time, I never write any script, I have just a part of the story and a couple of elements in my head. Usually I start to draw and see where it takes me. Everytime I wrote a script I never completed the comic. I think script and scenario are like a map, just to guide the artist, but a map is useful for a group of people to help them following the same way! As I'm working alone I like to choose my own path and change it whenever I like, exactly when you go for a journey on your own, taking the time to explore what's around to finally reach my goal which is the end of the story and maybe the start of another one.
My first porn drawings were 8 years ago. When I decide to do my own porn comic it was at first just to try some new technics and just have some fun!  That's how "Straight to…" was born! And maybe it's ironic, but it's the first that have been published!
I realized that porn could be interesting to do if you see it like musical! In musical, songs make the story and characters go ahead, the principle is the same with porn: Porn action scenes have to make the story goes! So yes: porn is musical… And it ROCKS!!!!
Nico
Bordeaux, April the 13th 2010
http://www.theartofnicolasbrunet.blogspot.com/