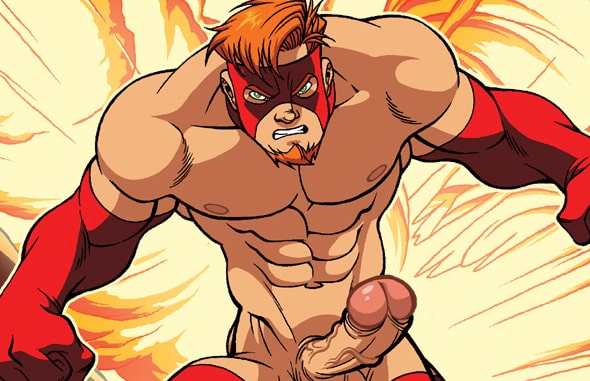 We've got a HUGE 2010 summer lined up for you here at Class Comics.  And we're gonna kick things off with the release of the highly anticipated Naked Justice: Beginnings #2.  Patrick Fillion (writer) and the amazing Jacob Mott (artist) team up once again to bring you the extremely exciting and cum-soaked second part of Naked Justice's origin story.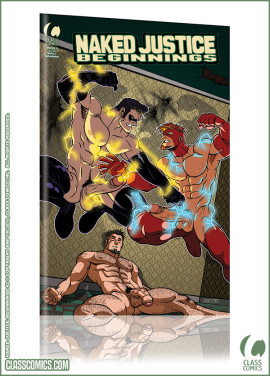 When we last saw Naked Justice, he wasn't' a hero quite yet.  He was just sexy Felix Himner, a man with great power but no idea how to use it.
Felix met Trip and the Unrivaled Alliance and saved all of London – heck – the entire world from alien invaders!  The Alliance took Felix in and with Trip's help, Felix learned how to control his amazing powers and became the incredibly heroic, incredibly hung Naked Justice.
You guys and gals loved Naked Justice: Beginnings #1 but some of you felt that despite it being extremely hot, the book didn't have as much sex as you might necessarily have liked.  At Class Comics, we listen to our fans!  Patrick has stuffed Naked Justice: Beginnings #2 with as much raunchy man-sex as possible, while still delivering a truly exciting and riveting story.  This one will have you on the edge of your seat!
The issue also introduces two brand new villains.  Vandal could be Naked Justice's evil twin… sort of.  He possesses the same sort of ancient Egyptian magic-based powers as our red-headed hero does, but he's one mean son of a bitch.  And while he and NJ clearly frequent the same tailor, Vandal's outfit is black leather and not red spandex.
Vandal has a run in with poor Trip, who just wants to get his rocks off in the early morning sun.  Trip is tough as nails but completely unprepared for Vandal's powers, and thus, evil plans are set into motion.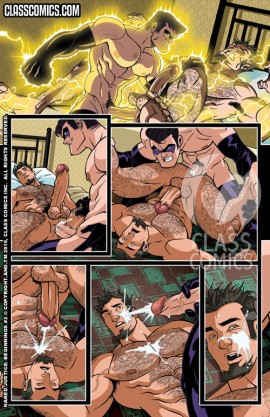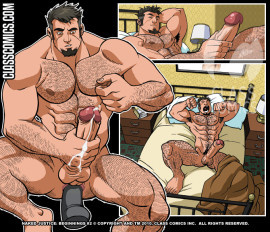 Someone VERY sinister with a deeply rooted hatred for NJ is pulling Vandal's strings.  And while we won't reveal him until the very last page of Naked Justice: Beginnings #2, this demented secret villain has masterminded a diabolical scheme that will test NJ's mettle to the limit!
All of this plus a very steamy medical exam fetish scene in which Felix gets a complete physical from the Unrivaled Alliance's physician!  This extremely exciting issue is gonna knock your socks off!  Stay tooned folks !  We'll bring you more information and an official release date as soon as it becomes available.
And be sure to come back often because we have more awesome "First looks" coming up for you soon.  You won't want to miss our wicked previews of the up-coming Deimos #2, Zahn #2 and Angelface #2. See you again soon!