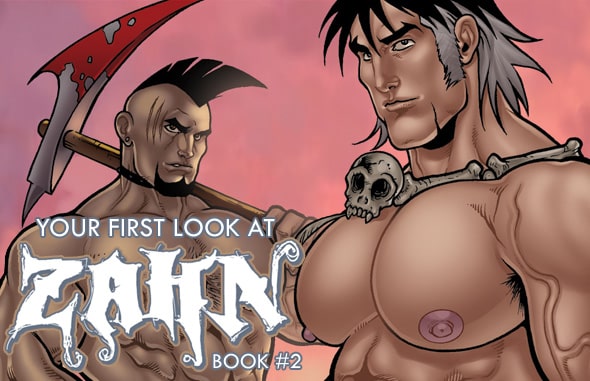 It's been a while in coming, and there have been some unforeseen delays at press this summer… but you've been really patient, and we thought we'd reward you with an exclusive FRIST LOOK at Zahn #2.  Not only are we bringing you a sneak peek at the art in the book, but we've also posted the first 4 pages for you to read. If this doesn't whet your appetite, we don't know what will.
Zahn #2 takes place immediately after Zahn and Jonah meet Cauldron in Striptease #1.  It seems that Cauldron and Zahn share a common goal.  They both want to rid Varda of the evil that threatens it and decide that the best way to do that is to put together and army of warriors.
They travel to an ancient keep called the Fortress of Dead Dreams, where it's said that several warriors are held prisoner by evil forces. If Zahn and Cauldron can free these warriors, maybe they'll agree to help save Varda.
BIG IF…
And that's where our tale begins.  Of course, there's a ton of other stuff that happens in this issue.  In Zahn #1, series creator Patrick Fillion stunned us with a surprise twist conclusion.  The mystery deepens in Zahn #2, but you will also get some answers and hints as to what's really going on in Varda.
Those of you who are curious about Zahn's past will be happy to learn that the Son of Winter may get some answers in this issue.  Unfortunately for him, they may not be the answers he hopes.  He seeks the very bizarre Zijnayu, the Seer of the Spring (as in water, not the season) and asks for his help in unlocking his memories.  Tentacle lovers will LOVE this scene.
In addition to all these plot points, you can look forward to a sexually charged, sextastic issue.  Patrick really went all out on this book, and Zahn and his pals put out for you time and time again.
The colors for this issue are provided by Golden Key and are spectacular. They bring Patrick's gorgeous illustrations to glorious life and every page is bursting with life and luscious detail.
As I mentioned above, there were delays at press… but don't worry.  Zahn #2 will still be released by the end of Summer 2010.  We'll keep you posted on release dates via this website and our official newsletter, so be sure to sign up.
For more information on Zahn the series, be sure to check out our newly re-designed Zahn Title Page.  You'll find great goodies there too! In the meantime, we hope you will enjoy this first look at the first 4 pages from Zahn #2.