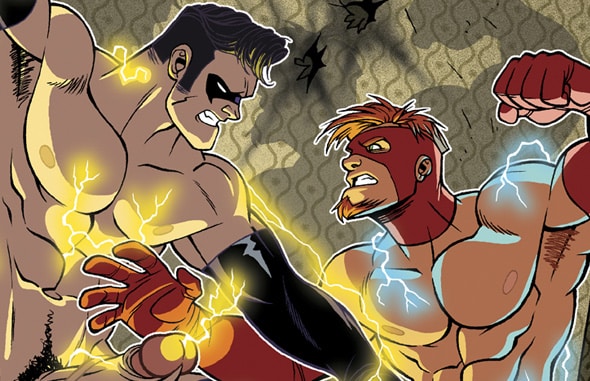 Your wait is over! Naked Justice: Beginnings #2 and the new hard cover art book ilLUSTrations: The Art of Patrick Fillion are hot off the press and now shipping!
Patrick Fillion and Jacob Mott have collaborated once again to bring you a FANTASTICALLY HOT second issue of the hit NJB series – and this edition is positively soaked in gorgeous, gooey man juice!
While NJ and his  Unrivaled Alliance pals are busy blowin' their copious loads, evil is afoot. A pair of new villains with a diabolical agenda is out to destroy them.  Enter Vandal, the dark could-be evil twin of Naked Justice, whose strings are being pulled by a mysterious, shadowy über-villain who has ties to NJ's past.
You won't want to miss this issue!  Naked Justice: Beginnings #2 is currently available in print and as a digital edition. That's right! We're conducting a little experiment with this issue, releasing both print and digital editions simultaneously.* Pick your poison loyal fans, and enjoy!  Be sure to check out our wicked new Naked Justice title page where you'll find awesome previews of this issue and cool new NJB2 wallpaper designs for your desktop (located in our convenient goodies package!
Also available now are personally autographed editions of Patrick Fillion's amazing new 92-page hard cover art book, ilLUSTrations.  We only have 200 copies of this beauty to sell, so get yours today, because they are literally flying off our shelves.
As an added FYI, our big Summer lineup has suffered a few setbacks due to unforeseen issues at press.  But fear not, Zahn #2, the Mark of Aeacus #2 and Deimos #2 are coming your way real soon.  Stay tooned and we'll keep you posted.
*Please note that the digital edition of Naked Justice Beginnings #2 has the exact same content as the printed edition .