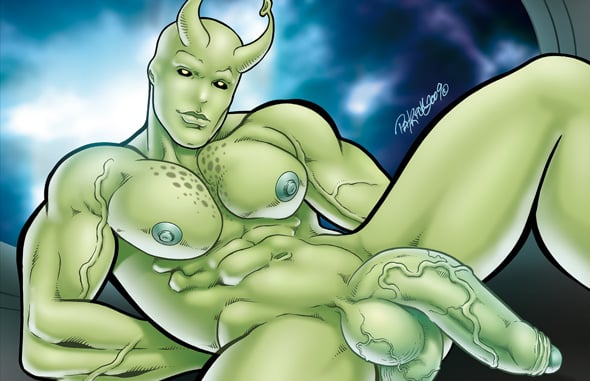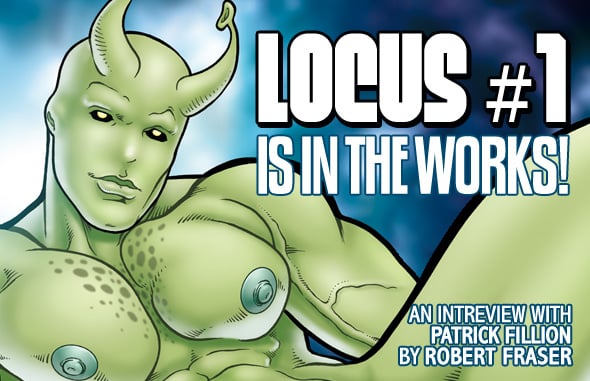 A few months back, Patrick asked his fans a question via his website: Do you think Locus should get his own book?  The positive response was overwhelming, and now Patrick has begun work on LOCUS #1.
After several months of hard, intensive work writing and illustrating Zahn #2, Patrick felt the need to work on a title with which he could be spontaneous and focus primarily on the themes he wanted to explore. "Locus has always been one of my favorite Class Comics characters.  I've always wanted to give him his own title. I guess I just wondered whether he could carry his own book or not because he is so alien.  I think I feared that people would be put off by his exotic and unusual look, but the fans have spoken…and they love LOCUS as much as I do."
What's not to love? Locus is handsome, charming, sexy and he's got a stand out personality which gives him a real edge.  He knows how attractive he is, and though he's a little conceited, he's lovable and endearing because of his great big… heart.
So what will LOCUS #1 be about? "His story revolves around the fact that as a gay male Sektan, he's a rare wonder on his planet… only like, 2% of Sektan males are born gay. We're gonna take a really good look at his people and his culture. We'll actually travel to his planet and meet more of his species for the very first time.  We also get a flashback in to when Locus meets Cam.  I know that's something the fans (and I) have been looking forward to seeing for a long while now!"
I've seen art from LOCUS #1 and it is scorching hot!  There is a ton of hot, crazy creative sex, and it's interspersed in the story in a perfect fit kind of a way. "Locus is a very sexual being.  Like a lot of my guys, he's totally built for sex. But in his current situation, as the story takes place, we realize that sex IS a necessity for him… on two very different fronts. One he's happy to embrace, and the other he is actually trying to escape."
Patrick can't say if LOCUS #1 will spawn an on-going series. Right now he's just having fun working on issue #1, and it shows. He's already inked the first 7 pages, and penciled several more.  "I don't want this book to take years to complete! I want it done in a couple of months, tops. That's not to say I'm rushing it, but rather that I am focusing on this completely… until it's done!"
This approach is new to an artist like Patrick who tends to have several projects in the works at the same time.  But just because Patrick is working on LOCUS #1, doesn't mean he's put aside other projects like Stephane's Funhouse of Fornication #1. "I still have big plans and big projects I want to work on.  The Funhouse is one of them, but after Zahn #2, I felt the need for some familiar, easy fun.  Locus is familiar. I love him as a character, both physically and in personality. I've been drawing him since 1992, and he comes super easily to me. I've been dying to give him a book for so long.  I finally decided to go with the muse, and right now my muse is green and hung like a donkey!  This is definitely the right time to work on this project!"
Written by Robert Fraser.