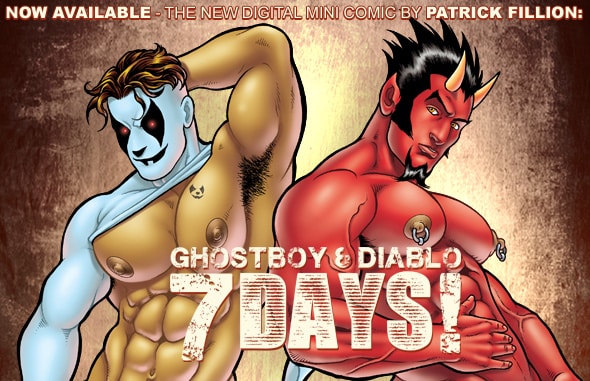 What would you do if the love of your life were kidnapped?
Diablo has been stolen away from Ghostboy by an overzealous fan who has a collection of sexual fantasies for Diablo to perform. Between the fear of what might happen if he refuses and the powerful mind altering substance he's been given, Diablo can't refuse his captors commands.
At the same time Ghostboy is using all his sleuthing skills and unique powers of persuasion at his disposal. Even without any clues, he know someone who is always willing to talk if you press the right buttons. In a desperate attempt to find a lead to his lover's whereabouts, Ghostboy turns to Diablo's boss, Leonard Lavollay for help… but at what cost?
While he thought his body had already been through every perversion know to man, Diablo discovers even more pleasures of the flesh in his seven days of captivity!
Self-fucking, fisting, piss-play and sounding are just a few of the lascivious things Diablo's captor has in mind for him. Join our two lovers and see if they can reunite before it's too late!
Written and illustrated by Patrick Fillion, "7 Days" is a powerfully explicit mini comic that serves as a fabulously raunchy little prequel to Ghostboy and Diablo #1.
This 8 – page mini comic includes an additional 7 pages of bonus materials such as unused pencil sketches, stunning Ghostboy and Diablo pin-ups and more. Don't miss out — Get your copy TODAY!