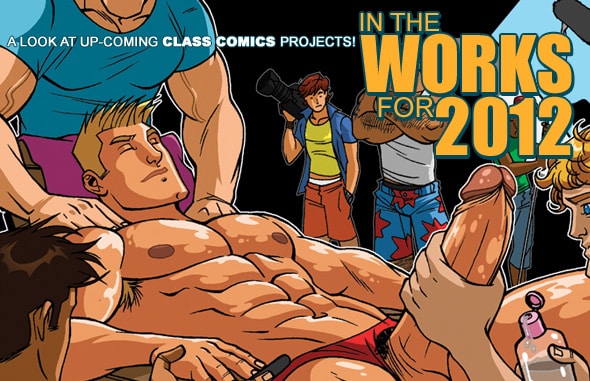 Hello Guys and Gals!
We can say with great confidence that 2012 is going to be quite a spectacular year here at Class Comics. As always, we're cooking up a pretty impressive lineup of comics and projects for you guys. Here's a sneak peek at just a few of the scorching hot goodies you can expect from us this year!
MAKO FINN #1
Written by Patrick Fillion and illustrated by Jacob Mott, MAKO FINN #1 is shaping up to be this creative duo's most impressive collaboration to date. This incredible first issue features the super sexy Mako, and introduces us to his ragtag team of fellow eco-warriors as they face a horrific menace from their past.
The issue beautifully blends Fillion's love of  the ocean with his love of sexy, hung heroes, while Mott does an unprecedented job of illustrating the HECK out of this soon to be classic.
The spunk will fly! The narrative will plunge you into a bold new corner of the Class Comics Universe populated with characters that you will lust after, while mixing in real world science. But this comic is not without its fantastical elements, and those are best embodied by the story's über-villain, the dreaded PIRANHA and his armada of twisted SHARKMEN.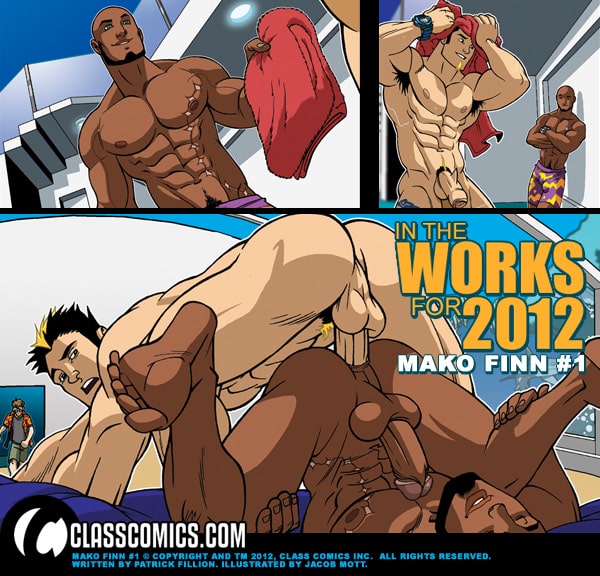 THE INITIATION #3
The boys of the Zeta Mega Phallus fraternity are coming back, and we never thought it was possible, but the INITIATION #3 is even hotter than the Gaybie Award-Winning second issue.
Dylan, Alex and Zack are back and they're hornier than ever, but sadly for them, their fraternity is flat broke, and now the boys risk eviction. Naturally our hunky college studs put their brains — and cocks — to good use and come up with some creative and raunchy ways to raise much-needed cash. But will it be too little too late?
And while his frat brothers stroke for the big bucks, Alex's life takes a surprising turn when a studly and mysterious stranger introduces him to a world he never imagined existed.  Raunchilly written by Robert Fraser and stunningly illustrated by Joseph Hawk, the INITIATION #3 promises to bring this incredible series to an explosive close.
RIDEHARD #1
Meet Alex Ridehard – Great Britain's newest (and hottest!) spy. James Bond has NOTHING on this guy!
In the first high-octane issue, written and illustrated by Alexander, we find Alex already in a sticky situation – captured and 'orally drugged' with a truth serum, enabling the villains (and the reader) to learn about his journey to becoming a spy.
Still under the influence of the truth serum, we learn through Alex how his first mission led him to uncover the fiendish plot to destroy Europe by his captor, the evil Dr. Voyeur.
Alexander's gorgeous art and cutting edge story-telling immerse you into this crazy-hot comic that's nail biting spy action and cum gushing sexcapades!
BROTHER TO DRAGONS #2
You've all been so patient, and your wait is nearly over – BROTHER TO DRAGONS #2 is almost here! We don't want to give too much away about this amazing issue, but we can tell you this – we've read it and it's MIND-BLOWING!
Written by François Peneaud with his usual flare for excitement and erotica, and illustrated by the greatly talented Carlos García, Brother to Dragons #2 immerses us back into Jiki and Alai's fantastical realm, where Dragons are worshiped as Gods, and sex between men is a beautiful, sacred act.
Patrick Fillion joins the creative team on this issue, providing a stunning cover as well as inside cover art. A feast for the eyes – a feast for the soul, Brother to Dragons #2 will truly leave you spellbound!
ALL IN A NIGHT #1
"The sound of Nico's skateboard on asphalt used to sound like freedom. Tonight it sounds like fear. Nico thinks that he knows the alleyways well, and on a good night, he does. Tonight is not a good night."
Nico and his friends are no strangers to the local cops. Their cat and mouse games of graffiti, vandalism and petty thievery are petty enough to warrant a slap on the wrist or occasional blow job. But things get out of hand when the lads decide to turn the tables and create a digital recording of the cops as they dole out their justice.
ALL IN A NIGHT #1 is a gritty urban drama created by Joseph Hawk, illustrator for The Initiation and creator of Long Road to the Sea, with Johnny Murdoc, writer of Crash Course. Working together, Hawk and Murdoc have forged a comic that blends rebellious youth, the law, hot sex and authentic danger.
MORE COMICS ON THE WAY!
Patrick Fillion is currently hard at work on several new projects – not the least of which is highly anticipated ZAHN #3. And while progress on Zahn #3 is steady, it's impossible to say when the book will be completed. So while we wait for issue #3, Patrick's whipped up a sweet new mini digital comic to tide us over. Entitled ZAHN: BLOOD OATH, this mini finds the Son of Winter seduced by a sexy vampire named Barund.
As Bryce Peters, Fillion is also working on a brand new BOYTOON ADVENTURES-style mini comic that features Locus being accused of a crime he didn't commit. Entitled LOCUS: THE LAW, this new mini pushes Locus' endurance to the it's very limits. The Lean, Green, Sex Machine may have bitten off more than he can chew this time!
SPOT AND THE ANIMALES #1, written by Fillion and illustrated by Eric Mars is also due out in 2012. And DEVILHOUND: THE AWAKENING, written by Fillion and illustrated by Nörm is slated for this year as well.
Fillion is also currently working on STEPHANE'S FUNHOUSE OF FORNICATION #1, LOCUS #2, as well as a number of other projects which we'll update you on shortly.
Meanwhile, the incredible LOGAN is working away on the much-anticipated PORKY #4 – AND – PORKY #5. And the STRIPSHOW COLLECTION Volume 1 is slated for release shortly as well. Featuring the art of Leon de Leon, Jacob Mott, Eric Mars, Bryce Peters and Patrick Fillion, this comic collects the first 21 STRIPSHOW episodes and features three brand new, never before released episodes as well.
And all of this is just the tip of the iceberg. More goodies are on the way, and we'll be sure to keep you informed. Stay tooned, and keep your eyes peeled and your cocks hard – 2012 is gonna knock your socks off!