Patrick discusses CAMILI-CAT: LOVE LOST #1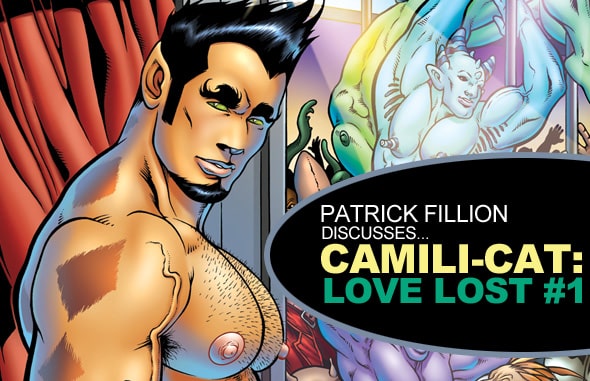 A sneak peek at CAMILI-CAT: LOVE LOST #1 and an interview with Patrick Fillion. Written by ROBERT FRASER. 
Whether you enjoyed the recent changes Patrick Fillion made to Camili-Cat or not, it's pretty safe to assume that you want to know what happens to your fave Felinoid next. We all do!
Cam's been drastically altered by Dr. Pupae (see Rapture #4 for the full story). He's been "physically enhanced" on a molecular level, so now he's almost invulnerable. He's got sexy new body hair, a shorter haircut, a goatee and … he's been circumcised! Yeah, that last part pissed quite a few people off!
But beyond all of that, Cam's been told that Locus is dead. And although we all know that's a big fat lie, Cam doesn't. He believes it, and now he wants to CLONE LOCUS!
Two weeks ago, via FaceBook and Twitter, Patrick announced that he's started working on a new full-length Cam comic called "LOVE LOST". That comic picks up almost immediately after the events that transpire in the Changes story from Rapture #4 and Stripshow #1. Now Cam is on a desperate quest to clone his allegedly dead boyfriend.
I asked Patrick a few questions about LOVE LOST #1 and here's what he had to say.
FRAZ: A lot of people were pretty shocked by first the circumcision, and then Cam's declaration that he was gonna clone Locus! Is he gonna succeed in cloning Locus in LOVE LOST and is he gonna get his foreskin back?
PATRICK: LOL! You know I can't tell you that! Major Spoiler if I do! XD LOL! What I can tell you is that he's gonna try his darndest to do both.
Cam's funny. He doesn't seem able to appreciate people and things in his life until they're taken away from him. Then he realizes their real importance. LOVE LOST is about his quest to clone Locus, but it's also gonna serve as a personal look at Cam's motives and his emotional core. He's going to have to take a long, hard look at himself. It's not going to be easy for him.
FRAZ: So the book is going to focus a great deal on Cam's relationship with Locus. Does that mean we can look forward to more flashbacks of their early days, like what we saw in Locus #1?
PATRICK: Yes. I've got some flashbacks planned for LOVE LOST. Mostly again, these are there to show how deep Cam's love is for Locus. Up till now, we've been told it's deep, and we've seen glimmers of it, but we've seen more of that from Locus' point of view. I want to show how much Cam cares for Locus, in his own words, through his own memories.
FRAZ: Can we expect to see any other familiar faces in LOVE LOST?
PATRICK: Definitely. Felicia and her new boyfriend Imanno, who we met in Felinoids #3 are in it too. Their reunion with Cam is quite awkward. Felicia won't actually be all that happy to see Cam again. But I don't want to give too much away about that. It's pretty central to the story.
FRAZ: A lot of us have been looking forward to a new Camili-Cat solo book since the end of the Felinoids series. And after the Felinoids series, you stated that you probably weren't going to do another solo Cam book for a very long time. What made you change your mind?
PATRICK: Cam made me change my mind! LOL! I can't NOT write and draw him. It's funny because after I finish a comic, I'm always equal parts "yay, that was awesome!" and "thank God that's over!" LOL!
Comics are a blast, but they're also a lot of work, and Felinoids #3 was particularly tough since it was in essence the conclusion to a story I'd been working on for years. I was glad it was over, but also a bit sad.
But time passed, and Cam kept calling. I guess I realized that now I had a cool new direction I could take him into. Plus, he's a total muse to me. I couldn't deny him, and I really felt deeply inspired to take him on this new adventure. LOVE LOST just started to flow. I really don't think I can ever put Cam aside for long.
FRAZ: That's good for us the fans, because we all love him! Anything else you want fans to know about LOVE LOST?
PATRICK: Yeah – mostly that I appreciate that the fans are willing to follow Cam and I down this path. I don't think what happened to Cam in Rapture #4 was anything anyone expected. It's shocked a lot of folks… I think it also kinda shocked me. After I did it I was all like, "HOLY SPIT! I can't believe I just did that and it's canon and it's official 'cause it's in print!" LOL!
But you know, even the fans that HATED the changes I put Cam through seemed pretty intrigued at the whole "I need to clone Locus" stuff, and seem really eager to see where that goes. So yeah, I'm grateful for people's open-mindedness.
I'm having a great time drawing LOVE LOST. New, hairy Cam is so hot and masculine, and he's more feral when he needs to be too. He gets more physical when he's got to, and that's been a lot of fun to draw. And the sex in this book is pretty damn HAWT, and a lot of it is really personal, so I've enjoyed working on those aspects also.
My hope is that folks will enjoy seeing this new side of Cam and that by the end of the comic, they'll be pleased with the outcome. I know you can never please everyone equally, but in a way, I think Cam's the one calling the shots! Hopefully, he's making the right decisions along the way.
NOTE: Camili-Cat: LOVE LOST #1 is expected Fall 2012 from Class Comics. Stay Tooned!