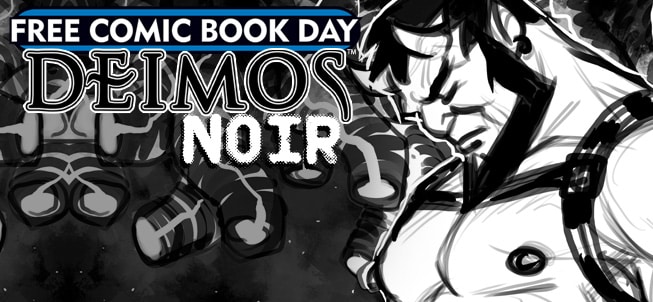 In honor of FREE COMIC BOOK DAY 2012, we're offering DEIMOS NOIR, a modern comic remade in the classic film noir style using Logan's amazing concept sketches for FREE DOWNLOAD, all day, May 5, 2012.
A brilliant artist, Logan approaches each comic he works on with a skilled eye and an adept hand, creating numerous iterations of each panel and page before finalizing his art.  The result is a treasure trove of gorgeous concept art and works in progress which are all masterpieces in their own right.
While working on Deimos #2, Logan drew a number of storyboards and breakdowns for the final art, and we've taken those wonderful, raw illustrations and assembled them together to create DEIMOS NOIR, a bold new edition of Deimos #2.
Download your copy for FREE today, but hurry, because it's only available as a free download on May 5th, during FREE COMIC BOOK DAY 2012. You can get the free Adobe PDF reader here: http://get.adobe.com/reader
If you think it's really cool comic and know someone else who would like it, then be sure to tell them to check it out!