Celebrate Halloween Class Comics-style this year! The official MEATY #3: THE CLASS COMICS HALLOWEEN SPECIAL is double collection of OVER 100 SPOOKTACULAR illustrations and mini comic strips and features the works of over 80 artists! It's Halloween like you've never seen it before! Which will you like more… THE TRICK EDITION or  THE TREAT EDITION?
This year, we put out a call to our fellow artists and creators, inviting them to create Halloween-themed art featuring the Boytoons of the Class Comics universe. The plan was to create a wickedly-fun, CLASS ACCESS Easy PDF Digital Comic celebrating our love of Halloween. The response from the erotic arts community was so enthusiastic and we received so much artwork that we had to split the book up into two separate, completely different volumes.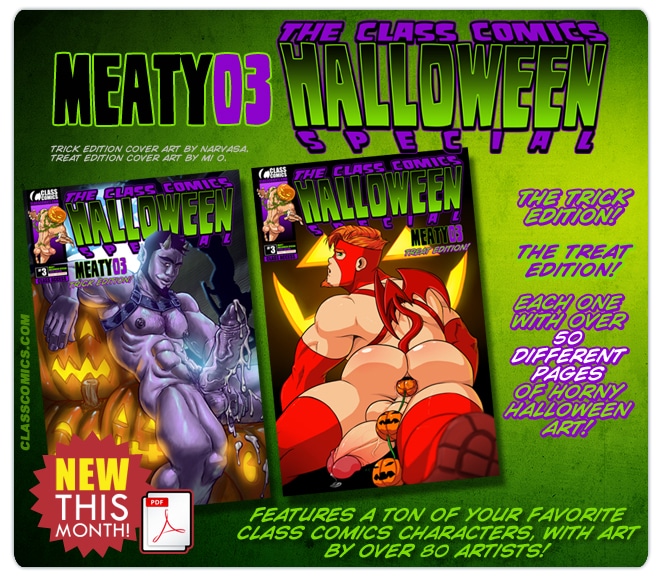 THE TRICK EDITION and THE TREAT EDITION are now both available to download. Each volume is bursting with horny Halloween fun, and is full of gorgeous artwork, created by some of the most talented artists in Male Erotic Art.
JACKO THE HALLOWEENER is Class Comics' official Halloween ambassador. Always horny and ready to jump every buff hero he can get his hands on, Jacko emerges every year in time for Halloween to spread the spirit of the season… and uhm, well as much of his jizz as he possibly can.  These two fantastic books feature the Jacko and the Class Comics heroes in ways and situations you've never seen before.
Each volume of the CLASS COMICS HALLOWEEN SPECIAL MEATY is brimming with hot and horny Class studs, beautifully depicted by wondrously-talented artists, ready for you to enjoy until Halloween and beyond.
Let us help you  make your Halloween one of the horniest, most spooktacular Halloweens of all time. Jacko has his hands full this year. And hopefully, dear reader, you will too! Download your TRICK and your TREAT today.
Check out all of these creators! We've never had so many fabulous artists and visionaries in one place! A complete listing of creators and their websites are included below. Make sure you check out their blogs, websites, twitter feeds, and get to know them! They are awesome folks who love to know they are appreciated!