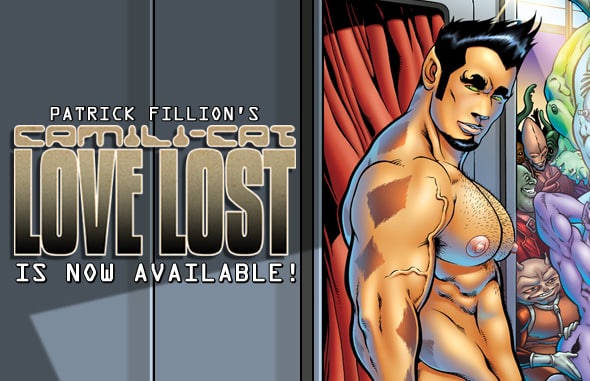 Camili-Cat: Love Lost #1, written and illustrated by Patrick Fillion is now available for purchase in both printed comic and digital comic formats. This scorching-HOT new comic continues Cam's quest to be reunited with his long-time lover, Locus.
The evil Dr. Pupae has done quite a number on Camili-Cat and our hero's been drastically altered. He's been "physically enhanced" on a molecular level, so now he's almost invulnerable. He's got sexy new body hair, a shorter haircut, a goatee and … his cock's been circumcised!
But beyond all of that, Pupae has told Cam that he's killed Locus. No matter what physical tortures Cam's endured at the hands of Pupae, this revelation wounds him most of all. Filled with an almost unbearable sense of loss, Cam vows to clone Locus, thereby bringing him back to life.
Like many of Cam's adventures, it all starts in an unearthly nightclub full of naked alien flesh and perverted patrons. But Cam's not there for fun or entertainment! He's after a secret access card that just might make his life more bearable.
He plans to steal cloning equipment from Nelvo Plour. Known as a particularly sadistic creep, Nelvo won't just give up his property, and Cam soon lands square in the gangsters' twisted clutches along with Ducky and Aza, two entertainers from the club who unwittingly get ensnared in his plans.
Can our hero escape Nelvo and see Locus live again? Perhaps… but he can't do this alone. He'll need to turn to Felicia and Imanno for help. And beyond bringing Locus back to life, Cam hopes that Felicia can turn her scientific knowledge toward the task of restoring him to his former self and undoing the damage Pupae has caused.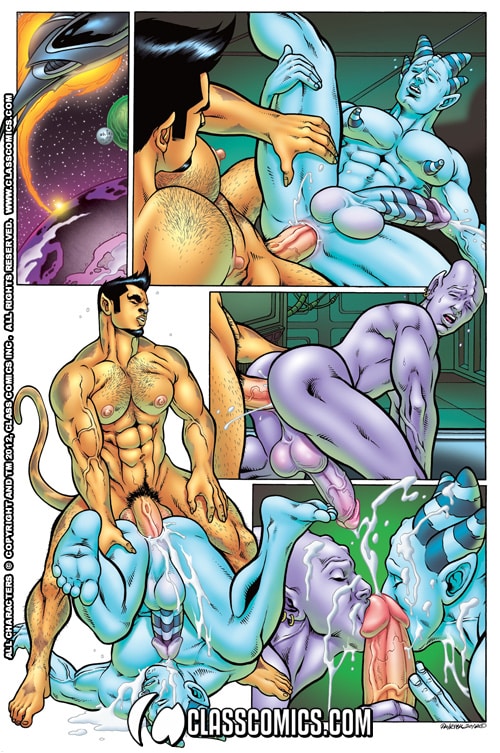 Will Cam manage to escape Nelvo? Will he ever again find himself in Locus' loving arms? Will he get his foreskin back? Camili-Cat: Love Lost #1 seeks to answer these questions in a raunchy new adventure that sets our favorite Felinoid on a bold and dangerous new path.
The digital version of the comic is available in a STANDARD EDITION and in a special SHAVED EDITION.
The SHAVED EDITION is for fans who prefer Cam without body hair. It features the same art and story as the Standard Edition with one important exception… Cam is as smooth as a baby's bottom. With only the hair on his head and under his arms, Cam is otherwise completely shaven, his rippling muscles bare of any extra follicles!
Fans of our printed comic books will want to purchase their copy of CAMILI-CAT: LOVE LOST #1 as soon as possible as this book is limited in quantity. Order yours today!