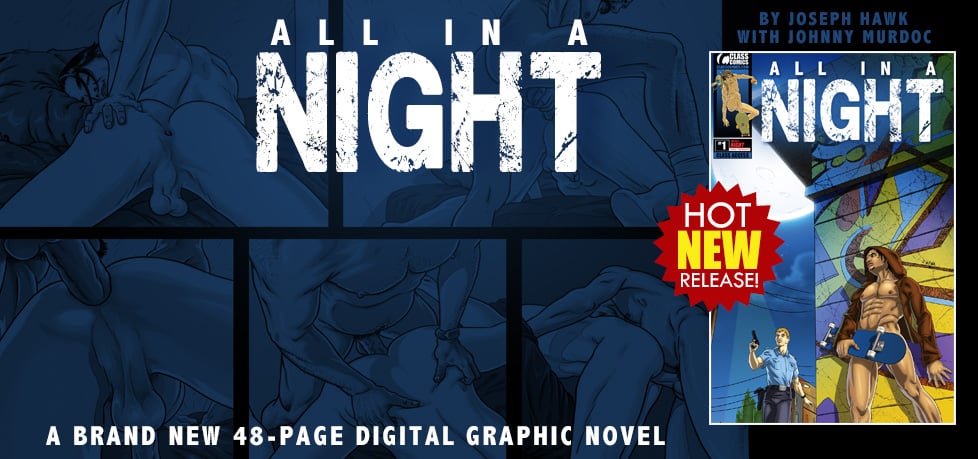 ALL IN A NIGHT  is an intense, noir tale of corruption and raw sex now available for download! From Joseph Hawk, the artist of "The Initiation" series, and Johnny Murdoc, writer of "Crash Course" comes this brand new 48-page graphic digital graphic novel.
In ALL IN A NIGHT, we meet Nico and his best pals, Paco and Aki. The three of them have been friends for as long as any one of them could remember. Brothers. Sometimes lovers. In fact, as kids they called themselves "La Tres Banditos".  These three would die for one another.
On this fateful night, the guys decide to take their skateboards and have a little fun creating graffiti art throughout the city. They couldn't have chosen a worse night to head out. Suddenly, they're caught in the sights of two police officers, Roberto and his partner, the angry and volatile Tony Caprice. With both cops under pressure to pull their weight at the department and make more arrests, Niko, Paco and Aki become targets and soon are running for their lives…
Getting caught in just the beginning. In a bizarre twist of fate, it appears that both officers know Nico and have had prior dealings with him and now there's nowhere for Niko and his friends to run. Nowhere to hide.
Injured and scared out his wits, Niko desperately tries to evade a vengeful Caprice, who is out for blood and will stop at nothing to teach Niko a lesson.
ALL IN A NIGHT is written and illustrated by Joseph Hawk, with dialog, story editing and lettering by Johnny Murdoc. It's a visually stunning and sophisticated story, brimming with suspense, action and gorgeous, hard guys. Fans of Joseph Hawk will even recognize Aki, one of Niko's pals as the main character from Hawk's hugely popular "Long Road to the Sea".
This second Class Access Digital Graphic Novel is sure to captivate readers from start to finish on a narrative level, while regaling through it's intense visual detail and raunchy, cum-drenched sex scenes.