Halloween is all about tricks… and treats! And we have a very special treat for you guys today! Some awesome new Halloween/fall themed fan art illustrations by two terrific artists — Eric L and Fab!  
Eric L turns his attention to Deimos, who here seems to have the ability to mind control Camili-Cat and Spot into going down on him — although, truth be told, he probably wouldn't have to try too hard to get them to do this! LOL! So yeah — "ON HALLOWEEN NIGHT, FREE THE DEIMOS INSIDE"! Fun advice on ANY night, really!
And for his second piece, Eric depicts Naked Justice with his choice of flavors, from Locus and Deimos to Diablo and Camili-Cat. Mmmmm… which would you choose? And don't worry — it's okay to be greedy!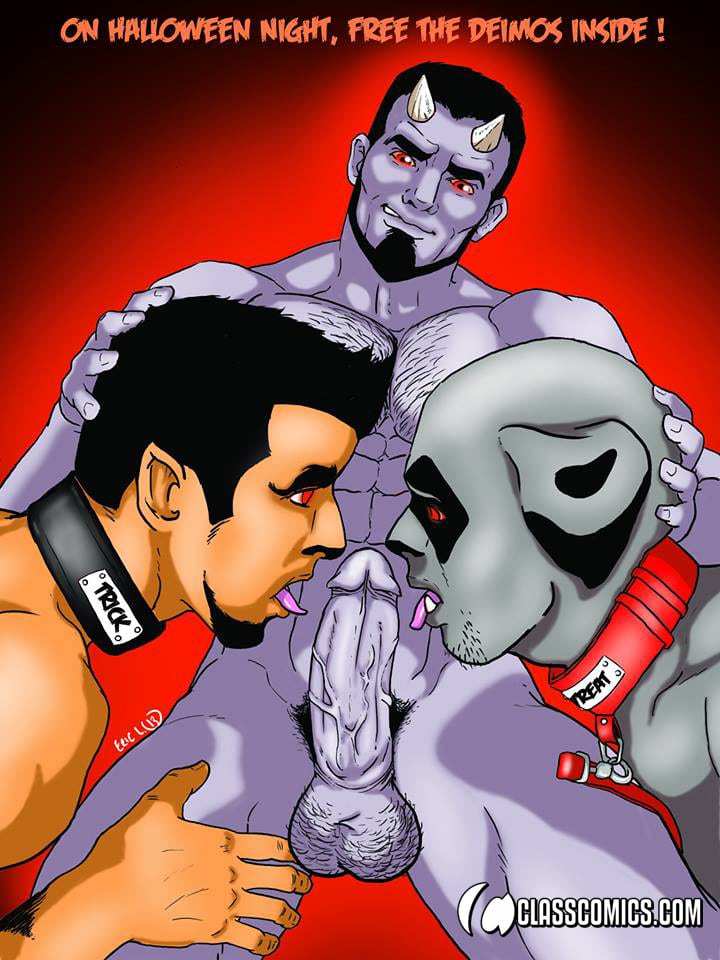 Fab always does a fantastic job drawing our Felinoids, and this gorgeous illustration of his makes us want to have a FABULOUS MEOW-LOWEEN indeed! This is his first time drawing Lanor, and what a beautiful first go! Looks like he and Cam came out of this catfight on top!
And lastly, Fab offers us this sexy illustration of Diablo, shown here with a foreskin for the first time ever, all gussied-up in his leather gear and pretty orange and yellow Autumn leaves. Splendid.
Thanks so much to Eric L and Fab for these fantastic pieces, all of which are greatly appreciated. You guys are AWESOME!
You can see more of Eric L's art HERE and more of Fab's art HERE! Be sure to pay them a visit and enjoy their other works, it's well worth it!
And remember, if you want to send us Class Comics fan art, the best way to do so is to use the official Class Comics dropbox. Here's the link: CLASS COMICS DROPBOX.
We look forward to seeing your art… and you never know — it may very well end up getting posted here for all of the Class Comics fans to enjoy!
All the very best, Patrick XOXOX
All characters are © Copyright and TM 2013, Class Comics Inc. All rights reserved.