Another Bent-Con is over so the question must be asked: How many more sleeps until the next one?
We had a such a great time at Bent-Con! Each year it gets bigger and better for us, the other exhibitors, and the throngs of fantastic attendees! The truth is that we're not sure who's more excited to be there, us or the readers.
Exuberant readers came from all over the world to Bent-Con this year. We thought that it was a long trip from Vancouver Canada, but some people came all the way from Thailand. Talk about being on a mission to take part of the most Bent of Bent conventions!
We didn't have a hand clicker counting each conversation, each handshake, each hug, each photo-op or each gigantic smile we received… But we're pretty sure it was a BUNCH more than the 2012 Bent-Con. It doesn't seem like it's possible, but each year is definitely getting bigger & better and more & more fun. They're going to need a bigger boat next year!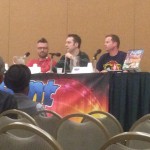 Our second annual Class Comics Bent-Con Panel was a huge success! We (Patrick Fillion, Robert Fraser and Butch McLogic) had the pleasure of rambling on about the comics we've put out over the last year and what's in store for next year as well. We took some pretty awesome questions from both the audience and some (geographically challenged) Twitter followers.
What we take away each and every year is how much our comics and characters mean to everyone. It's so fulfilling to hear first hand how Cam's grief, Mako's fury, Ghostboy & Diablo's love, and Gage's self discovery thrill the readers even more than the hot sex! (Don't worry, we won't be reducing the hot sex!)
As usual, our booth was visited by a few familiar faces! Make sure you check out some of them below in our galley of fun! You can also see a TON of awesome photos taken by Louis "Kengi" Carr on his Bent-Con Flickr Gallery!
If you didn't make it to Bent-Con this year, then MAKE SURE that you do next year! In the meantime take the convention for a spin! We don't know exactly when it will be,  but as soon as the next dates are released, we'll let you know about it!
Or even better, sign up for their mailing list on their website www.bent-con.org
We'll see you there next year!
Patrick & Fraser & Butch!
@justincomics @ButchMcLogic I feel bad saying this, but it was fucking fantastic. Best one yet! #BentCon gets bigger and better each time!

— Robert Fraser (@Fraserbot) November 13, 2013