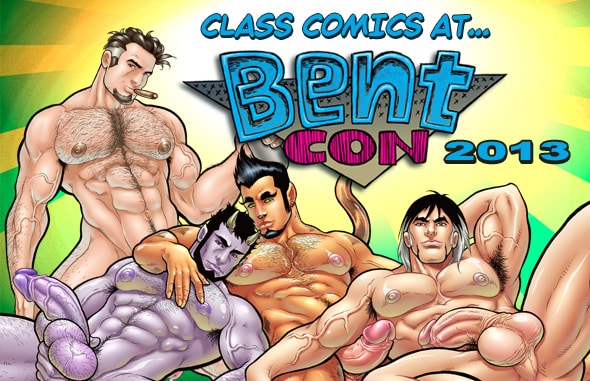 IT'S TIME FOR BENT-CON! On November 8th – 10th, BENT-CON will be returning to the Los Angeles Burbank Marriott Convention Center for 2013 — its fourth annual celebration — and Class Comics will be there.
This year, among our numerous comic book offerings, we'll also have 3 BRAND-NEW, PREVIOUSLY UNRELEASED TITLES available for sale at the Class Comics booth. You'll have the opportunity to pick these new books up, as well as meet Patrick Fillion, artist/writer/creator of numerous Class Comics titles such as "Zahn" and "Camili-Cat: Love Lost". Robert Fraser, the writer of "The Initiation" and "Beautiful Dead" will be on hand, as will Butch McLogic, the creator of "Tug Harder" and the artist for "Beautiful Dead". They'll be happy to sign your comics and chat with you about their next projects.
On Saturday, November 9th at 5:30, Fillion, Fraser and McLogic will be hosting a fantastic panel called "The Heroes of Class Comics", where they'll discuss up-coming projects, secrets of the Class Comics Universe and take questions. All are welcome, and all those attending will be eligible to win a $100 gift certificate, redeemable at the Class Comics Online Store.
Also at the convention this year are fellow Class Comics contributors, Zan Christensen, the writer of "The Mark of Aeacus" and Jezza Smilez, who has created art for the Monthly Class Comics STRIPSHOW.
BENT-CON is  committed to recognizing, celebrating, encouraging and appreciating LGBTQ and our (UnGay) Allies contributions to pop-culture and geekdom. Specifically, comic-books, gaming, sci-fi, fantasy and horror mediums from artists, writers, creators, publishers, directors, actors and producers that create works targeted directly to LGBTQ audiences and the larger realm of mainstream and underground pop-culture as a whole.
BENT-CON hosts an annual convention that celebrates, provides a forum and community for these creative genres in its various forms to present to the public comic art, writing and multi-media not normally accessible or presented through existing commercial channels.
But it's just easier to think of it like a Comic-Con, only GAYER! So if you're in the lovely Burbank area this weekend, be sure to come and say hello! You'll have a TERRIFIC time and we look forward to seeing you there. For more info on BENT-CON and to see what the Convention's weekend schedule consists of, check out the official BENT-CON website.