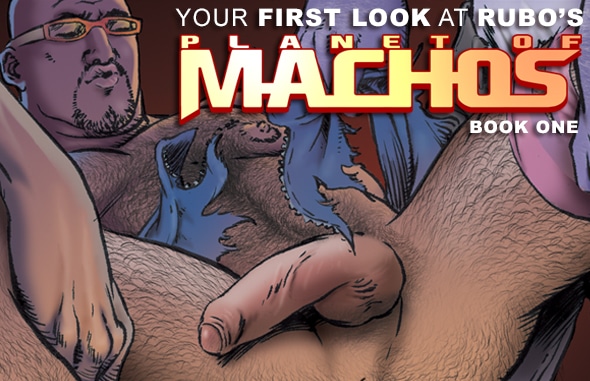 You've seen his beautiful and potently masculine art in the pages of the Class Comics Halloween Special Meaty (Treat Edition) and the Class Comics Summer Special Meaty. You've most likely seen his work on the net. Now RUBO comes to Class Comics with the very first issue of his all-new mini series entitled PLANET OF MACHOS — and book one is just around the corner.
Written and illustrated by the incredible Rubo, PLANET OF MACHOS is an epic tale of sex and survival on the post-apocalyptic planet of Terra.
For a lone Trader who encounters a handsome young survivor under the inhospitable desert sun, the choice is clear: ravage him and then help him traverse the dry wastelands. But fate has other plans. Attacked by the deadly marauders known by all Terrans as Trackas, the two men are separated… but now attached to one another, our hero the noble Trader will stop at nothing to find his missing companion.
It's a perilous journey with danger lurking around every corner, and in a dark and dingy Gay Bar in the middle of nowhere, the Trader is assaulted by horny and crazed Hybrids… Hybrids whose semen is deadly to normal humans!
To say that PLANET OF MACHOS #1 is an awesome book is a MASSIVE understatement. Rubo's sequential art and story telling are completely stunning and compelling. Issue #1 is on it's way soon, and will be available in Printed and Digital Comic Formats. If you love sexy, manly guys, bears and hunky smooth twinks, the heroes of this series are for you.
PLANET OF MACHOS a return to erotic science-fiction the likes of which you've never seen before.

PLANET OF MACHOS WALLPAPER!
We hope you've enjoyed this preview… and while you wait for the first issue of PLANET OF MACHOS to come out, here is some wicked wallpaper for your computer — available in Widescreen and Standard sizes.