The Class Comics HEROES IN PERIL MEATY… that is, MEATIES, HEROES IN PERIL VOLUME #1 and HEROES IN PERIL VOLUME #2… are here and now available to download.
We put the call out to the Gay Erotic Arts community and the response was PHENOMENAL! We received more art for this edition than any previous Meaty. WOW… Peril is popular! Because of the massive amount of art, we've decided to split the HEROES IN PERIL Meaty into TWO MASSIVE volumes! Both VOLUME #1 and VOLUME #2 contain over 50 pages of art each and feature some of today's most incredible talent in the Gay Erotic Arts world.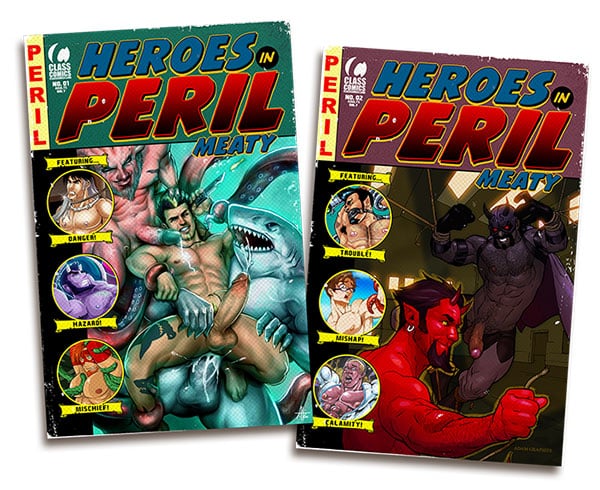 Each issue features fantastic pinups, deadly scenarios, dastardly devices and mischievous mini-comics! The heroes of the Class Comics Universe have their hands full this time as the artistic community dreams up some deliciously twisted and naughty adventures for our beloved champions.
Your favorite Class Comics characters are all present, and you'll meet some that you might not have even seen before! These artists have dug deep into the history of Class Comics and found some long forgotten cast members!
HEROES IN PERIL VOLUME #1 and HEROES IN PERIL VOLUME #2 are now available as Class Access Easy PDF Digital Exclusives. You will NOT want to miss out on this naughty fun — download your copies today! 
Here is a list of the artists that have created artwork for HEROES IN PERIL! They range from the well known to brand new to the genre! We think you should check each and everyone of their websites out and follow them on twitter!