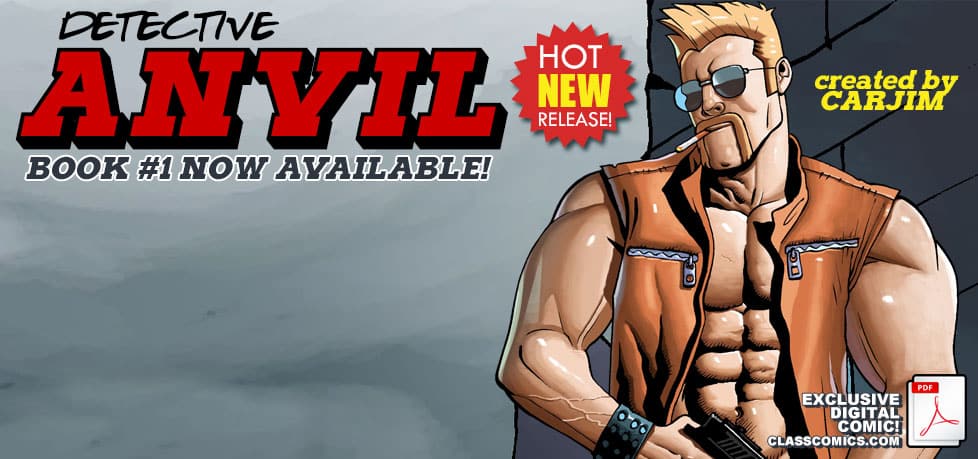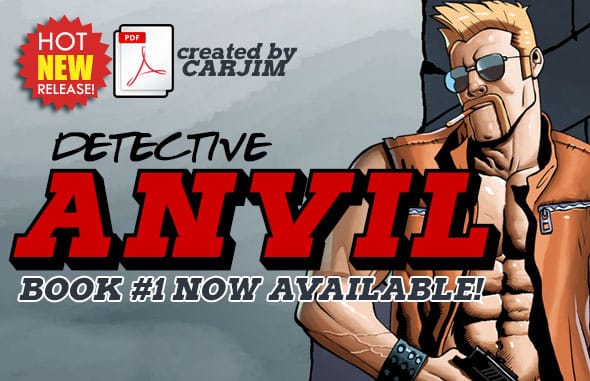 A new brand of crime fighter has come to Class Comics. DETECTIVE ANVIL #1 is now available as a digital comic in our New Comic Shop and in our Old Comic Shop!
DETECTIVE ANVIL may be the only man that stands up for justice in a city filled with corruption, greed and evil intent. This time, he's stumbled onto a case that could change the balance of power in his crazy town.
Harry Mendez, a young hustler is murdered in cold blood and left in the middle of the street. The police don't give a shit. The justice department is too busy lining their fat cat pockets to pay any attention. But when no one seems to give a damn about the life of one unfortunate boy, DETECTIVE ANVIL steps in with one goal in mind — to see justice done!
The murder leads to a chain of deep corruption. At the very top is Judge Jack Stone, an opportunist with an appetite for cash and cock, and a lack of empathy for his fellow man. Stone's right hand man and frequent fuck, Randy Owens rules the streets with an iron fist, spreading terror and pain wherever he can. All the hustlers know better than to oppose him, and so they work for Owen's "protection" and to remain on his "good side".
Detective Anvil's quest for justice takes him on a perilous journey of clues and close calls. He will face the city's dirtiest crooks, and even go toe to toe and ass to cock with a bizarre and massively hung man-beast creature bent on eliminating him.
Written and illustrated by CARJIM, DETECTIVE ANVIL is a steamy and danger-laced mystery with a hard-headed, hard-cocked but soft-hearted hero at it's core. DETECTIVE ANVIL has come to Class Comics and he's here to clean up crime in our cities… and he'll fuck every hot and hung dude out there in the process if he has to.