The New Year's gonna be BIG for Byron Durand, the super sexy SPACE CADET! Our heroic hunk has two great new comics on the way, and both will be available thiS Spring.
First up will be the highly anticipated SPACE CADET #3, written by Patrick Fillion and illustrated by David Cantero. This issue concludes the Space Cadet mini series in a big, and we mean BIG way. Without giving away any crucial plot points, let's just say that this third volume leaves Byron changed in a fundamental way.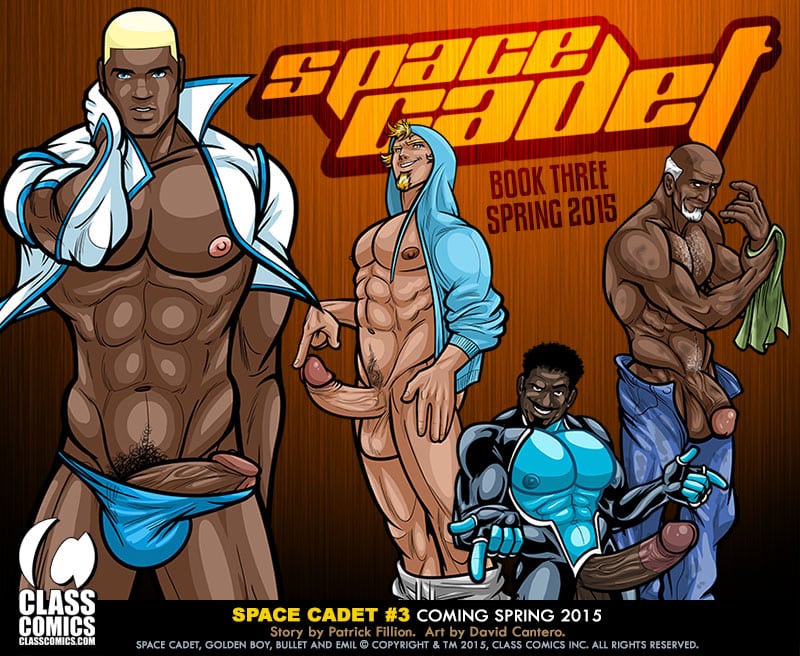 In SPACE CADET #3, we're gonna see a more assertive Byron. He's feeling a little more sure about himself and his powers, and even though he and his new pal GOLDEN BOY have been betrayed and fallen into a trap, he's ready to do what it takes to save the day.
Look for Byron's father, the incredibly sexy DILF EMIL to show his sensual side. You'll be surprised at the hard body and big cut dick that lie under all that brainpower and intelligence.
The issue also brings closure to the STRIDER/VALLAN plot line, something a lot of readers have been looking forward to since SPACE CADET#1 came out back in 2010. While familiar faces receive their long-overdue day in the sun, Byron makes an important new ally in BULLET, a fast-talking adventurer with aligning interests. And let's face it, our hero will need all the friends he can get when he finally comes up against the grotesque CASCABEL and a slew of other enemies with ties to the conniving BOARIS CHAPELLE.
David Cantero returns as the artist on this amazing issue, and delivers some of the hottest action, and raunchiest sex scenes of his career. His lines continue to impress and delight as he brings SPACE CADET and his pals to action-packed life in this nut-blowing final mini series chapter.
Immediately following SPACE CADET #3, prepare yourselves for an all-new, all Patrick Fillion SPACE CADET mini comic entitled "VOID". 
SPACE CADET: VOID begins moments after the end of  book #3, as a strange presence "calls" out to Byron. It's a summons he can't ignore, and soon our young hero finds himself in a bizarre and surreal conflict with a presence definitely not of this world. This "VOID" cannot survive without SPACE CADET, and the lascivious dance is on. Can Byron's enhanced powers help him battle this outlandish being, or are those very powers what has drawn this entity to him?
Fans of Fillion's Cadet will revel in this Class Access Mini Comic as the creator of SPACE CADET goes all out drawing his mouthwatering chocolate hero in all of his glorious, muscular and massively hung, err… GLORY!
We'll keep you posted with official release dates and bring you more previews as they become available. In the meantime — HAPPY NEW YEAR!!  2015 is gonna ROCK for SPACE CADET and his fans!