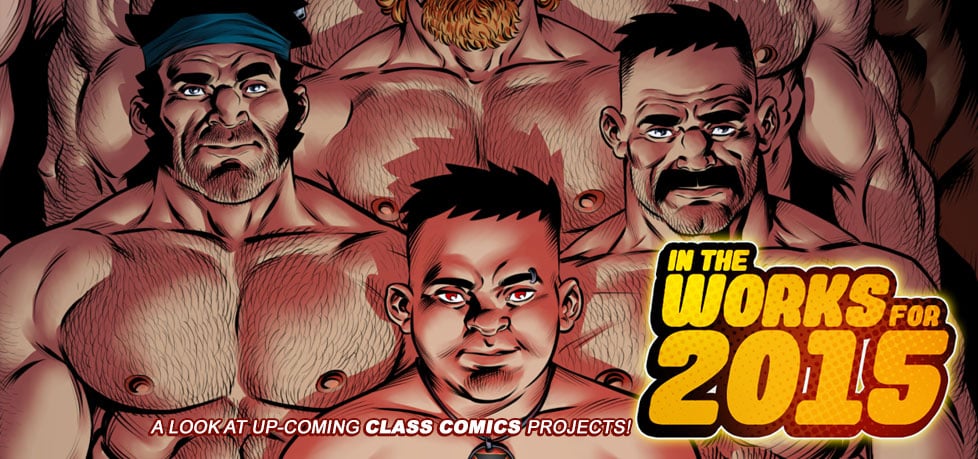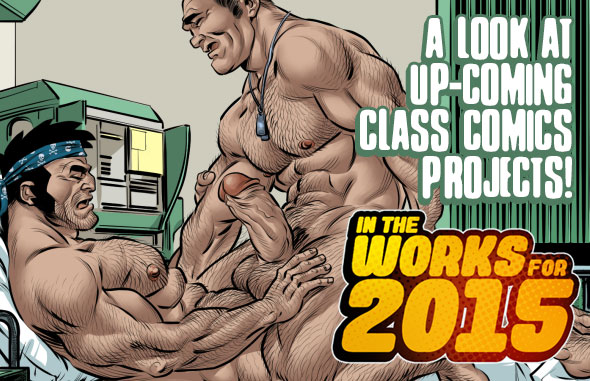 Hello Class Comics fan! Every year we bring you a roundup of the titles we're working on for the New Year, and this year we've got another spectacular crop of books headed your way. Here are just a few of those titles, listed below in no particular order.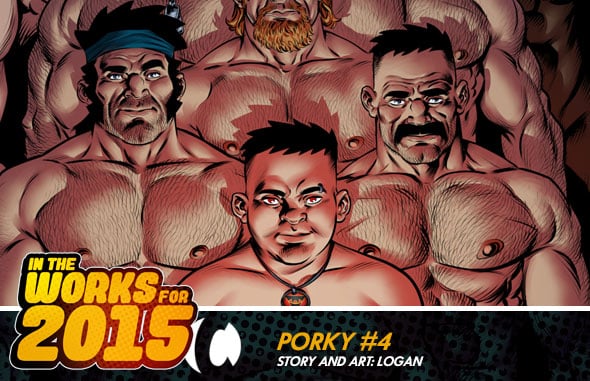 PORKY #4
No. Your eyes DO NOT deceive you. Your wait is nearly over. LOGAN, the legendary creator of Gay Erotic Comics has completed the fourth installment of his amazing Porky series and it is KILLER.
The precursor to the epic series finale, PORKY #4 finds Porky, his dear ol' dad and his sexy uncle MARK in a serious spot of trouble. New powers of mysterious origins may not be enough to help the Folley survive the villainy of the Controller.
In classic Logan fashion, scorching sex lies at the center of the action and drama, and PORKY #4 proves beyond any doubt that good things come to those who wait.
PORKY #4 will be available in print and digital formats.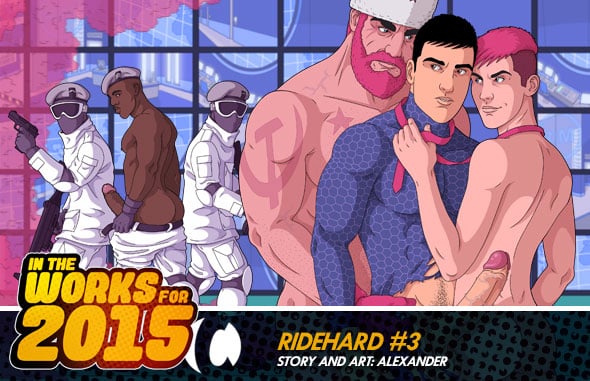 RIDEHARD #3
Earlier this year, we revealed the cover to ALEXANDER'S up-coming RIDEHARD #3. The final issue of this exciting spy-themed series, RIDEHARD #3 is Alexander at his very best.
ALEX RIDEHARD, spy and agent of R.I.M has his hands full this time around with what could very well be his most challenging assignment yet. The very future of R.I.M hangs in the balance as the double crossing VALENTINE prepares to complete his ultimate mission and assassinate a high ranking official. Can Agent Ridehard stop sucking dick long enough to put a stop to these dastardly plans? Hopefully. Probably… but who are we kidding? Once his mission is over, he'll be back on his knees in no time.
RIDEHARD #3 will be available in print and digital formats.
SPACE CADET #3
Byron Durand is finding his life of adventure as SPACE CADET a little challenging. This time, his good intentions have delivered him into the arms of some truly scary, deep shit. What began as a search for some missing hustlers has turned into a complex mystery and a scheme that could LITERALLY tear SPACE CADET and his new pal GOLDEN BOY to pieces.
There are defining moments in every hero's life, and for SPACE CADET that moment has come. But how he makes it through, and in what state he'll be in remains to be seen. Sex, Centaurs, Satyrs and senses-shattering adventures… PATRICK FILLION (writer) and DAVID CANTERO (artist) return to deliver a truly spectacular final issue to the SPACE CADET series.
SPACE CADET#3 will be available in print and digital formats.
THE BROMANCE #1
Written by ROBERT FRASER and illustrated by a slew of artists including JACOB MOTT, LEON DE LEON, DAVID CANTERO, PATRICK FILLION, CRAY and MARTIN CHAN, the BROMANCE introduces us to Paul, and sexy young gay guy with a lot of hunky straight friends.
Paul has an overactive imagination and an active libido and as we meet each of Paul's friends, we're treated to some of Paul's hottest fantasies revolving around them. Each fantasy is raunchily penned by ROBERT FRASER and brought to life by a different artist and will leave you gasping more and leave you wondering just where does fantasy end… and reality start?
THE BROMANCE will be available in print and digital comic format.
SPACE CADET: VOID
Picking up immediately where SPACE CADET #3 ends, SPACE CADET: VOID is a mini comic written and illustrated by PATRICK FILLION that finds Byron meeting a bizarre otherworldly creature known simply as "Void". What is Void? What does it want? All good questions, and for some reason, it seems to be drawn to our hero's solar-born abilities.
It's an attraction that could spell disaster for Byron… and the outcome of this strange and fated meeting will leaving you speechless.
SPACE CADET: VOID will be available as a digital mini comic.
CLASS COMICS HOOK-UPS #1
CLASS COMICS HOOK-UPS is an all new series that finds each new issue teaming up two (or in some cases more than two) of your favorite Class Comics Boytoons.
Kicking off the series in an incredible 26-page EPIC, PATRICK FILLION (writer) and DAVID CANTERO (artist) work their magic yet again and bring SPACE CADET and MAKO FINN together for the first time in one comic.
Something strange and menacing is waking from its millennium-long slumber beneath the waves off the Kona Coast in Hawaii, and it's hungry for life energy. Setting its sights on local marine life doesn't sit well with the defender of the deep, MAKO FINN… but attacking Mako's best friend WARREN sets our hero on a mission to unravel this ancient mystery.
Surface-side, SPACE CADET is in Hawaii vacationing with his entire family. His father EMIL falls prey to the same menace that threatens Warren. Now Mako and Space Cadet meet for the first time and must race against time to save two of the most important people in their lives in CLASS COMICS HOOK-UPS #1.
CLASS COMICS HOOK-UPS #1 will be available in print and digital formats.
ZAHN: A LITTLE TROUBLE
Next we travel to the ancient world of VARDA for ZAHN: A LITTLE TROUBLE, a breathtakingly beautiful and deliciously raunchy new adventure as ZAHN teams up with SAMM, the strange little faery man that the Son of Winter met previously in the pages of STRIPSHOW: The Collection #1.
Written by PATRICK FILLION and lavishly illustrated by JUAN SOTO, this all-new mini comic is a gorgeous and mouth-watering masterpiece that finds Zahn magically shrunken down in size by Samm so that the two of them can "better interact". While Zahn and Samm enjoy a great meal and some hot sex under the hot Vardan sun, their fun is cut short when LARS, a forest-dwelling hunter spots our heroes and decides to capture them. Everyone knows that faery jizz brings you eternal life, right? Lars sure seems to think so.
The incredible JUAN SOTO returns to his first new story since working with DEIMOS in RAPTURE #4, and he brings his A+++ game to the table.
ZAHN: A LITTLE TROUBLE will be available as a digital mini comic.
SLEEPING BEAR: A GAY TALE
The amazingly-talented DAVID CANTERO is nothing if not prolific, and in this wonderfully hilarious and sexy "Gay Tale", the master creator delivers a fabulous new spin on a classic story. SLEEPING BEAR is a gay reinvisioning of "Sleeping Beauty", and in typical CANTERO fashion, it's a tale filled with hot hot HOT guys, uproarious dialog, outrageous characters and boner-popping artwork.
Once upon a time in the wonderful land of Super Mega Cool, the beautiful FASHION QUEEN and the handsome MACHO KING have a beautiful bouncing baby boy named PRINCE MATEO who is born as hairy as baby bear cub!
Now the evil fairy bitch MALEFICIAshows up to curse the young prince. Upon his eighteenth birthday, he will prick his finger on a record player and fall into a deep, dark slumber. And YES, only the kidd of his TRUE LOVE will be able to wake him.
While not a hard-core sex book, SLEEPING BEAR is sexy, light-hearted fun that is sure to delight all Cantero fans, and set the stage for many other Cantero-esque "Gay Tales" to come.
SLEEPING BEAR will be available in digital format.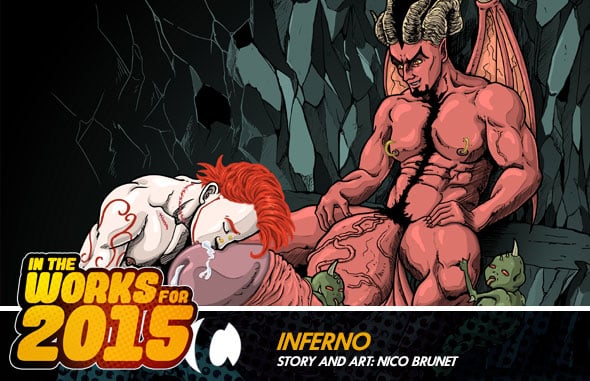 INFERNO
Ever since his first appearance way back in DEIMOS #0, BOB the ruler of Hell has captivated readers with his massive member and cruel intentions. Now artist and writer NICO BRUNET brings a monstrously hot vision of Bob to life in INFERNO.
After being killed by AZAGOTH (see DEIMOS #1), street hustler RUSTY finds himself in Hell as punishment for a life of crime and dishonesty. Soon, he is face to face with Bob, and prepares to receive eternal damnation. BUt wait… Is it possible. The Lord of Hell sees something in Rusty that he cannot ignore. Is it potential? Is it perhaps a greater destiny?
NICO BRUNET delivers one of the raunchiest, most inventively sexual comics we've ever seen, and INFERNO finally delivers a closer, more in depth look at the demon named BOB. The result will be a match made in HELL as Rusty and Bob seal a pact that could drastically turn the tides in the war between Heaven and Hell.
INFERNO will be available in digital format.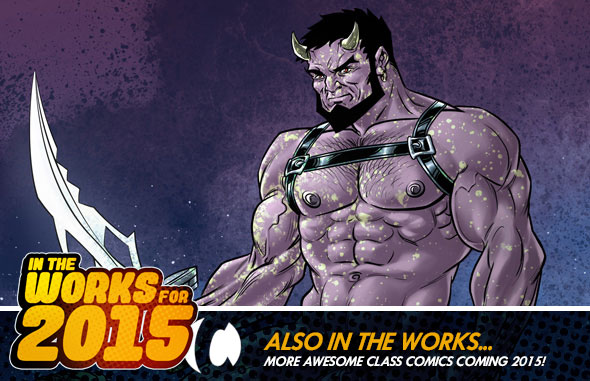 ALSO… in the works for 2015
This impressive crop isn't all the cool stuff we've got up our sleeves for 2015… not by far. Here's a small list of other books being worked on at the moment… and remember… just because you don't see a listing for the title you are hoping for doesn't mean it's not happening. We just wanted to bring you a list of books that are complete or near completion as we know those titles will be published this year.
DEIMOS #3 (the final issue of the series)
Written by PATRICK FILLION and illustrated by LOGAN
MAKO FINN #2
Written by PATRICK FILLION and illustrated by JACOB MOTT
ALEX IN BONERLAND
A playful take on a classic featuring the Boytoons of the Class Comics Universe.
Written and illustrated by DAVID CANTERO
DEIMOS: DEAD OF WINTER #2
Written and illustrated by PATRICK FILLION
THE PACK #1
Written by ROBERT FRASER and illustrated by NATHAN SERO
CAMILI-CAT: BENDER #1
Written and illustrated by PATRICK FILLION
GHOSTBOY AND DIABLO #4 (the final issue of the series)
Written by PATRICK FILLION and illustrated by DAVID CANTERO
…And more exciting titles have yet to be announced, so STAY TOONED!