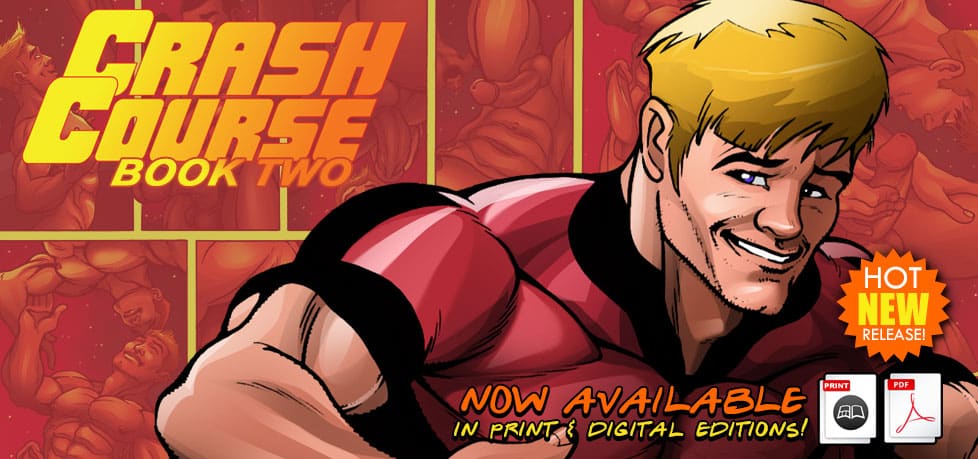 We're very proud to announce the official release of CRASH COURSE #2, available both in a Print Edtion and as a Class Access Easy PDF DIGITAL EDITION.
Crash and his trusty robotic sidekick Rockstar are back, in an adventure that has the jizz flying in zero gravity!
After saving the massive but docile creature known as a Taunshen from certain extinction, Crash and Rockstar make their way to a metal planet called Appliance — it's a planet that was built entirely by robots.
Crash who believes he's the only human being on Appliance is bored out of his skull among all the robots and machines, until he runs into Hal, a studly naked redhead with a gorgeous dick and an ass primed for the fucking. Crash is quick to tap that, and the fun only intensifies when Hal's ship-mates join the party.
But while Crash and the other three dudes suck and fuck each other's brains out in zero-g, Rockstar unearths a diabolical scheme that places Crash's life is very real danger.
As hilarious and clever as it is raunchy, CRASH COURSE #2 is brilliantly written by Johnny Murdoc and beautifully illustrated by TJ Wood. The colors in this issue are by Richie San Lucas. This second issue of the Crash Course series will absolutely delight fans and wow new-comers to the title.
And to get your JUICES REALLY FLOWING… 
CRASH COURSE #1 THE SPECIAL EDITION is also now available in digital format and includes a WHOPPING 40 PAGES of bonus materials including sketches, writers notes and other fantastic materials that will greatly expand your understanding and enjoyment of the comic!