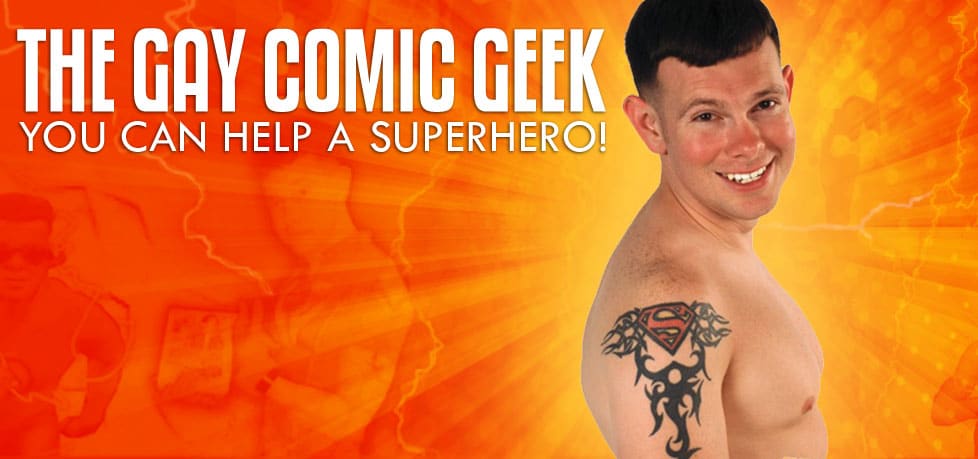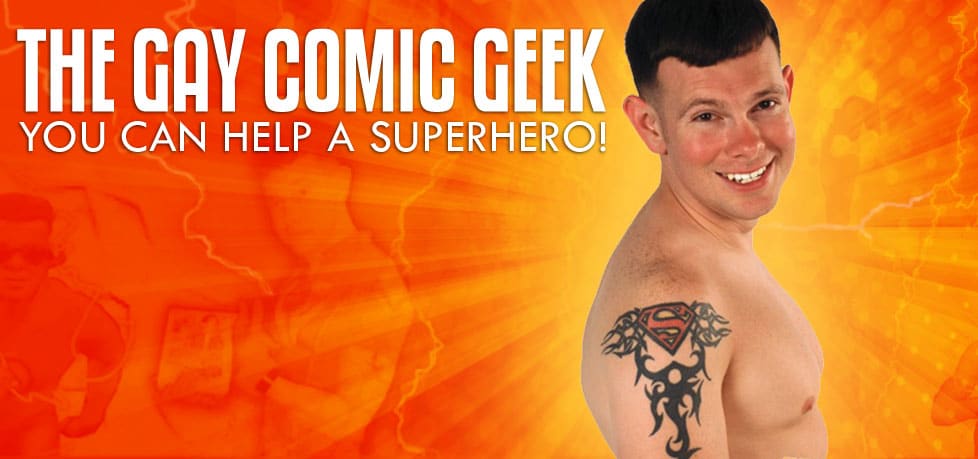 Do you know what happened April 17 2008? Paul Charles joined YouTube and The Gay Comic Geek was born.
The Gay Comic Geek, aka GCG, is a fantastic example of what happens when you share your enthusiasm for what thrills you, regardless of how silly it is to others. Paul oozes enthusiasm for all things that combine GAY and COMICS and GEEKYNESS… and we love him for it.
He had us from his very first review of a Class Comics title. From being carefull not to give away too much of the plot, not being too descriptive of the sex, carefully holding his hand over the cover's giant schlongs, and wonderfully mis-pronouncing character names*… we knew he was awesomesauce without a shirt on.
It hasn't always been easy for him however. We'd love to show you his early videos, but YouTube has pulled most of them down. In fact every few months there would be a new hater that took aim at our friendly neighbourhood Gay Comic Geek. In case you didn't know, YouTube comments are not always the nicest.
No. It hasn't always been easy sharing his enthusiasm openly, and recently, Paul LOST HIS JOB for being The Gay Comic Geek. That's right, he's been fired for sharing what he loves. He was unexpectedly dismissed on a "morality" clause in his contract, which makes us sick to our stomach.
Fear not however… this story will eventually have a happy ending. Paul is a superhero and no matter how bad things get, they always win in the end. But for now, it's a pretty rough time for Paul. But you can help because today is your chance to help out a superhero!
There's an online fundraiser to help get him over this hurdle and any small amount is appreciated! There's a good chance that you discovered naughty comics because of one of Paul's videos.
Thanks so much for even considering helping him out!
Patrick and Fraser
The Gay Comic Geek Website: www.gaycomicgeek.com
The Gay Comic Geek on Facebook: www.facebook.com/TheGayComicGeek
The Gay Comic Geek YouTube Channel: www.youtube.com/user/GayComicGeek
The Gay Comic Geek Twitter: www.twitter.com/gaycomicgeek
The Gay Comic Geek Fundraiser: www.fundrazr.com/campaigns/3y1J2/ab/84fp23
https://twitter.com/gaycomicgeek/status/380679987700846593
*To his credit, who came up with names like Deimos, Azagoth and Fillion?