We're always going on about how hot our Summer comic book releases are, but we're here to tell you that FALL 2015 is bringing with it some pretty freakin' WICKED titles. Today, we wanna share with you some amazing previews from one of those titles: DEIMOS: DEAD OF WINTER Part Two.
DEIMOS is always a crowd pleaser, and fans were over the moon in 2013 when Patrick Fillion returned to the hunky Taro Demon after nearly ten years of not drawing him personally. DEAD OF WINTER Part One became one of the most popular Deimos comics to date, and while no second part was officially planned at the time, inspiration struck and we can now look forward to a cum-drippingly HAWT follow-up chapter.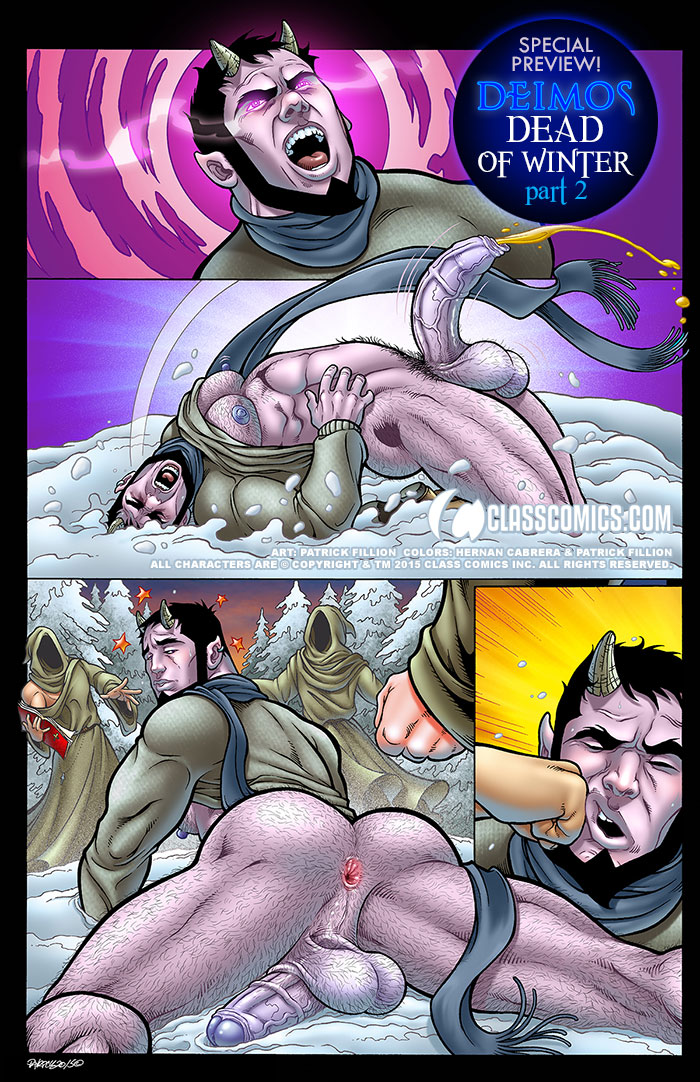 Part Two begins after Deimos leaves MACK to return to GATEWAY CITY. His injuries at the hands of the demon PUGAZZO were severe and more dire than he thought. He's been convalescing for a few days but now he must return to the city and continue fighting in the war between Heaven and Hell.
On his way through the sprawling snow-covered woods outside of Gateway City, the Taro Demon gets lost, and ends up coming face to face with a forgotten brotherhood of monks — religious zealots who are determined to capture him and punish him in the name of the Lord.
Try as he might, Deimos cannot convince them that he is actually on the side of "their Lord". It's tough days ahead for the big hairy demon as the monks give in to their basest, most carnal longings, and Deimos wonders if he will ever manage to leave the halls of their forgotten Monastery.
Written and illustrated by Patrick Fillion, with gorgeous colors by Hernán Cabrera and Fillion, DEIMOS: DEAD OF WINTER Part Two is headed your way early Fall 2015. It will be initially available as a Class Access digital comic and we'll keep you posted on the official street date once the book is scheduled for release. In the meantime, we hope you'll enjoy these sexy page previews filled with hard, hung and hairy taro-tinted muscle.