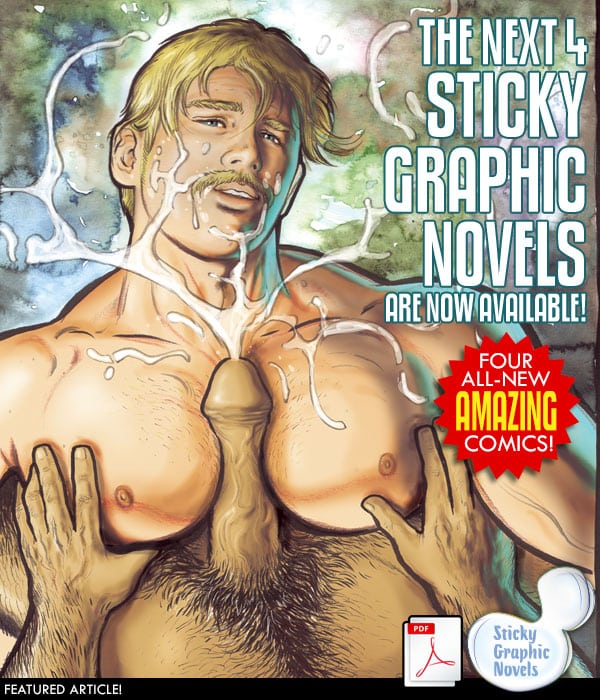 Class Comics is proud to release the BRAND NEW Sticky Graphic Novel's Comic CARNAL #1 along with the complete set of STICKY #1, STICKY #2 and STICKY #3, which are new to us!
CARNAL #1 is the first in a three-issue series featuring stories of carnality and sweetness between manly men written by Dale Lazarov and drawn by TheAmir! CARNAL #1 features "Hunk Tank", a story of two hot cops who meet while working the drunk and disorderly beat on Gay Pride Day. What follows their meeting would give anyone reason to celebrate…
STICKY is the groundbreaking three-issue series of character-based, sex-positive tales of man-on-man carnality and sweetness written by Dale Lazarov and drawn by Steve MacIsaac – now in it's 10th anniversary of publication!
STICKY #1 features "Hold On", a story about a casual street fair hook up between two hot guys that turns into an extended challenge to see how far they can go while delaying orgasm. And they go pretty far!
STICKY #2 features "Talk Show Queers", a comic that looks into what happens to the gorgeous gay rodeo star after he's been brutally dumped by a boyfriend who declares himself straight in front of a talk show audience: he gets picked up by the hot, burly security guy sitting front row center. Naturally, they get down to some sticky business…
STICKY #3 features a Halloween-themed comic; in "Treats", a sexy, butch pirate and a muscle-bound monk meet at a grad school Halloween party. Trick or treat? Both, if it's good!