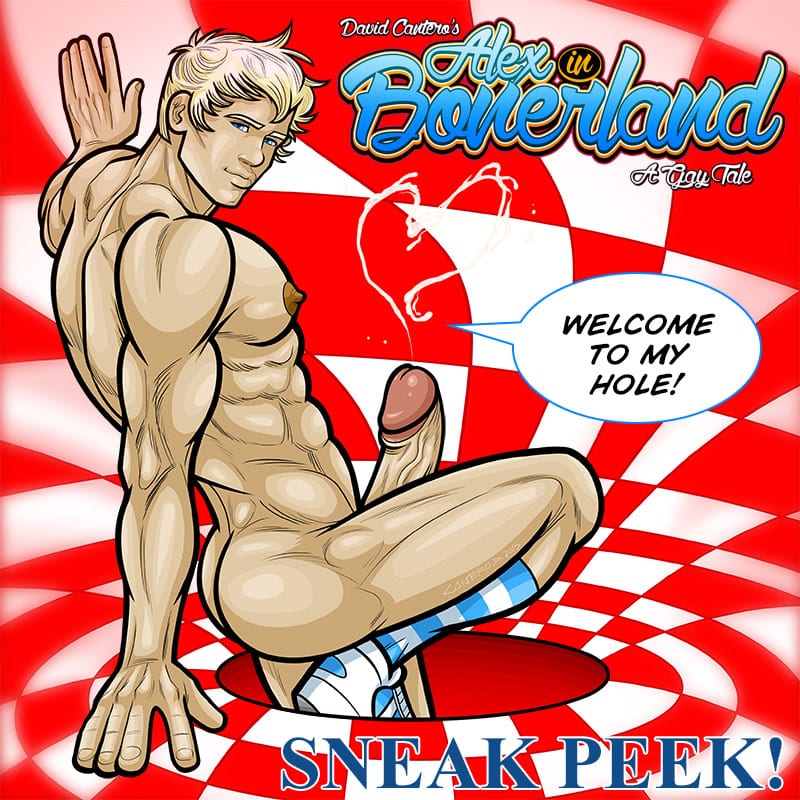 The Holidays are just around the corner, and Class Comics is proud to announce a very special comic event that is the perfect sweet treat for the season. It's the BIGGEST Class Comics CROSS-OVER, in like… EVER! David Cantero's ALEX IN BONERLAND is coming to keep you warm all over.
Written and illustrated by the talented David Cantero, ALEX IN BONERLAND is a very special Gay Tale. A hornilly-hilarious take on the classic "Alice in Wonderland", ALEX IN BONERLAND casts some of Class Comics' most popular characters in the iconic fairy tale roles.
ALEX, the Initiation's sexy blond frat-boy, plays the role of our titular hero. While out one day studying with boyfriend DYLAN, Alex spots a very familiar-looking WHITE RABBIT running across the grass. The Rabbit is in quite a state which piques Alex's curiosity. Though what really raises Alex's interest is how big the Rabbit's uncut dick is! Alex decides to blow off his studies and take off after the rascally rabbit. His pursuit finds him plunging deep into a strange burrow smack in the middle of two vaguely butt-shaped hills. This lands him in the middle of the strangely magical world of Bonerland.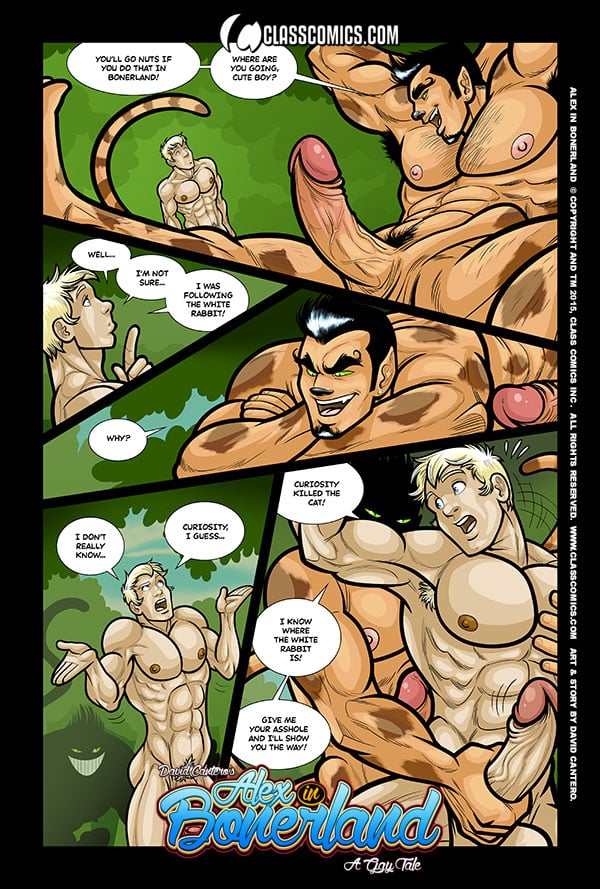 There Alex encounters an superbly hung and charming CAT with a winning smile who points him along the right path. The White Rabbit remains elusive, and Alex's chase finds him encountering a number of odd but hunky characters throughout this bizarrely randy realm. From a MAD HATTER with red skin and a forked tail, to a pair of deliciously muscled Space Cards, his obsessive quest eventually takes Alex before her royal highness, the ever-grouchy and threatening QUEEN OF HEARTS.
It's a wild, uproarious and cum-soaked confection of a ride in typical David Cantero style which means beautiful art, sexy, slapstick humor and the perfect mixture of naughty and nice. It's the perfect cross-over event, just in time for the Holidays.
Now all that we need to know is… Do you fit in the rabbit hole?
ALEX IN BONERLAND is set to be released in mid-December in a  English Print Edition and as a Class Access Digital Comic which will be available in three languages – English, Spanish and French — a first for Class Comics. Each language edition will be identical in content and only the text will differ. Stay tooned for more details!