To say that we have a BIG YEAR planned in 2016 is what you would call a HUGE understatement. For the past two years, Class Comics has continued increasing the number of titles we've released, and 2016 will be no different.
Below is a list of MANY (but not ALL) titles planned for release this year (listed in no particular order) . We're constantly working on projects, so please remember that just because you don't see a book listed in this article, it doesn't necessarily mean it's not coming out this year. It just means that the books we have listed are GUARANTEED to be released.
And now without further delay, please enjoy this little peek at the hot books headed your way this year.
BEAUTIFUL DEAD #2
Story: Robert Fraser
Art: Butch McLogic
How frikkin' STOKED are you about THIS issue? GAGE and HAYDEN will return this year with another installment of undead adventure! A bit of time will have passed for them, but not terribly much and both survivors will be a little better equipped to take on everything that the dead can throw at them.
Robert Fraser has shoved the boys deep into the roots of this epidemic and also sent them some living, breathing humans to help them on their way. Or maybe to hinder them!
As always, Butch McLogic does an amazing job bringing life into a post-apocalyptic world full of death! He's currently working on finishing up the colors on the characters. Once primary character art is completed, he'll be diving into the apocalyptic backgrounds, creating his usual brand of engrossing atmosphere.
It's going to be an exciting issue where nothing is guaranteed to go right for Gage and Hayden! BEAUTIFUL DEAD #2 will probably be released on an appropriate day ending in 13, 31 or 666 later in 2016!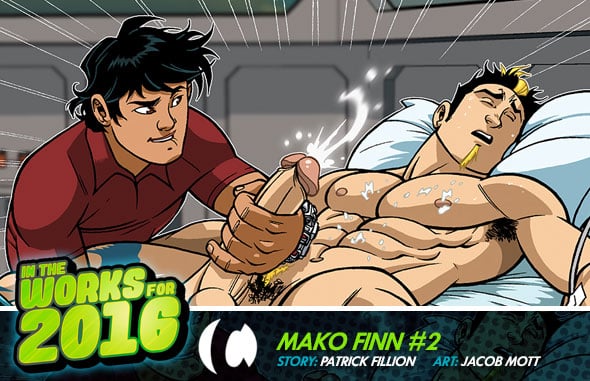 MAKO FINN #2
Story: Patrick Fillion
Art: Jacob Mott
The highly-anticipated return of MAKO FINN and his team of underwater eco-warriors is just around the corner, but their continuing adventure is anything but a leisurely swim.
When last we saw Mako and his friends, they were facing a massive, supposed-to-be-extinct Megalodon shark. In this new issue as the action resumes, we're treated to a series of flashbacks that unveil the birth of Mako Finn, and shed light on the conflict between our titular hero and his arch-nemesis, the demented PIRANHA.
Also we ask, is AKENO MORI all that he seems, or is he deliberately keeping secrets from his new associates? And while DANNY and AUBREY desperately try to keep the O.R.C.A. and her crew from falling to little itty bitty pieces, WARREN and GRETCHEN are in deep – and we're not kidding – DEEP trouble.
It's been well-worth the wait as Jacob Mott draws the HELL out of this issue, penned by Patrick Fillion. Look for MAKO FINN #2 to swim your way in Spring of 2016. The heat is so damn high for this edition, the water's virtually BOILING!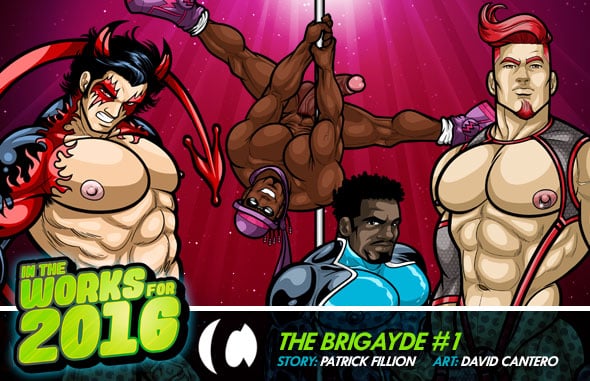 THE BRIGAYDE #1
Story: Patrick Fillion
Art: David Cantero
Written by Patrick Fillion and lavishly illustrated by David Cantero, THE BRIGAYDE is like nothing to ever come from Class Comics before. To start with, it's the first ON-GOING series we've ever created. What this means is that with no end in sight, Fillion and Cantero are free to truly flex their creative muscles like never before and bring us an incredibly expansive and sweeping new comic title, brimming with hot characters – some familiar, others shiny and new.
Virtually everything that has transpired in the Class Comics Universe to date has been leading up to the events in THE BRIGAYDE; from Felix Himner's transformation into the Incredibly Hung Naked Justice, to the war between Heaven and Hell… THE BRIGAYDE ties up years of story telling in a way that can only be described as EPIC!
We're keeping much of the details of THE BRIGAYDE #1 absolutely hush hush. What we can tell you is that THE BRIGAYDE is Gateway City's new team of super heroes, risen from the ashes of the now defunct GUARDIANS OF THE CUBE (Hey? Did you guys know about this?). The series takes place about 7 years in the future, and as the first issue begins, we see that much has changed for many of our super heroes over that period of time.
So who is part of THE BRIGAYDE, anyway? We're keeping some of the line-up a BIG SECRET for now, but we can tell you that fan-favorite DEVILHOUND is on the roster. The book also stars BULLET (Space Cadet #3) and LEGEND (Ghostboy & Diablo #4), and introduces a striking new character by the name of RED VELVET. Red and his "patron" are directly responsible for assembling this team of hunky heroes. These are heroes for dark times as the world is rife with discord and inequality.
Two other familiar faces will be part of the line-up, including a very special team-leader, beloved by fans. But be warned… things are changing in Gateway City and nothing stays the same forever. When we reveal the full team roster, your jaw is GUARANTEED to drop to the floor.
Stay tooned as we're preparing a massive "sneak-peek" article on the THE BRIGAYDE coming up shortly. In the meantime, look for the first issue of THE BRIGAYDE to drop sometime in the Spring of 2016.
CLASS COMICS HOOK-UPS #2
Featuring ZAHN and DEIMOS
Story: Patrick Fillion
Art: PPmaq
That dastardly COLLECTOR is up to his no-good tricks once again! This time, he and a fellow collector of stunning male specimens, decide to enter into a dangerous game of chance. Each Collector chooses two of their favorite subjects and pits them against one another in a game of sex, sorcery and survival.
Having exploited them before and knowing their capabilities well, the Collector selects ZAHN and DEIMOS, and transports them to a savage and unexplored region of VARDA, there to face HORDE and MURD, a duo of hunky but devious Orcs, determined to win by any means possible. Our heroes better watch their hot butts… these Orcs aren't above cheating and they sure don't play fair.
Beautifully illustrated by Class Comics new-comer, PPmaq, CLASS COMICS HOOK-UPS #2 is written by Patrick Fillion and each and every panel is bursting with energy, hotness and that trademark PPmaq panache, humor and flare that fans of his "Epic Loads" comic know and love.
Coming mid-2016, this all new Zahn and Deimos adventure finally reunites these two hunks whose undeniable connection will only deepen in the face of immeasurable adversity and danger.
NAKED JUSTICE & TRIP: WORKOUT!
Story: Patrick Fillion
Art: JC Soto
So, NAKED JUSTICE has joined the UNRIVALED ALLIANCE, Great Britain's premiere team of super heroes, but TRIP, the team's hunky dilf-of-a leader feels their latest recruit could use a little more battle training.
Using his telepathic powers of suggestion, Trip creates an all-too realistic and intense workout for the reluctant Naked Justice. Sure as shit, things get way out of control, and soon Naked Justice will have to save Trip's hunky butt as a threat from the past manifests itself anew.
Written by Patrick Fillion and beautifully illustrated by JC Soto (Zahn: Size Matters), WORKOUT is expect mid-2016.
CAMILI-CAT & LOCUS: LOVE LOST #2
Story & Art by: Patrick Fillion
Colors by: Hernán Cabrera & Patrick Fillion
After what seems like years of delays, we finally get the continuation we've been waiting for to the on-going adventures of  CAMILI-CAT and LOCUS.  Merging the LOVE LOST and LOCUS titles under one single book, Patrick Fillion feels confident that everyone's favorite Felinoid and Sektan can shine anew in the all-new LOVE LOST #2.
LOVE LOST #2 merges pages Fillion created for the intended BENDER #1 and LOCUS #2  in order to create a cohesive story that finds Camili-Cat deeply disturbed by his inability to clone Locus, who, he believes died at the hands of the evil DR. PUPAE. Meanwhile, Locus and new pal CAPTAIN BEEDAL are desperate to find a way to escape SEKTA PRIME. This forces them to enter a dangerous tournament of chance in which Locus is used as the buy in. Not the soundest of plans.
While Cam and Locus are leading parallel lives, don't expect the star-crossed lovers to be reunited just yet. Cam's adventure takes him even farther away from Locus, while the Lean Green Sex Machine has his hands full keeping horny gamblers from claiming him as the ultimate jackpot!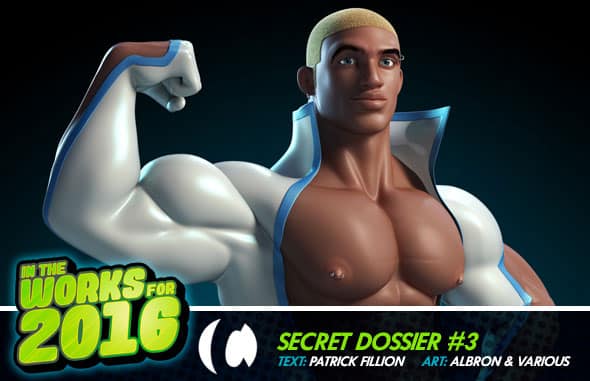 SECRET DOSSIER #3 and #4
Text: Patrick Fillion
Art: Albron (3d renders) and various artists.
The next two issues of the fan-favorite SECRET DOSSIER series are comin' up, and issues three and four will focus on SPACE CADET and NAKED JUSTICE respectively.
Each volume is an exhaustive look at it's featured character and his entourage. With gorgeous artwork by all your favorite Class Comics artists, oodles of fun facts and simply stunning 3D renders by the immensely talented Albron, SECRET DOSSIER #3 and SECRET DOSSIER #4 are sure to please die hard fans by focusing on two of the Class Comics Universe's most beloved heroes.
Release dates for these two volumes are still pending, but we'll keep you posted.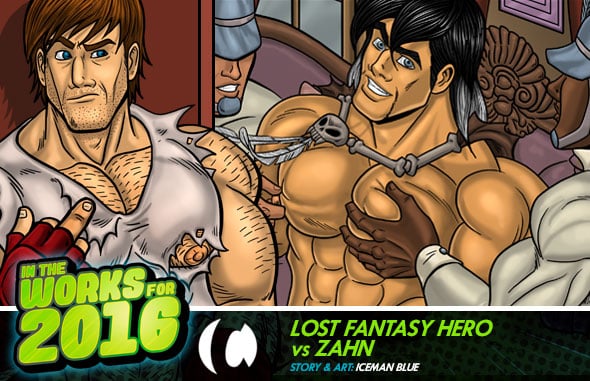 LOST FANTASY HERO VS ZAHN
Story and Art: Iceman Blue
What do you get when an evil DRAGON LORD turns his sights to other realms to find for an advantage in his own personal war? An impressive mash-up of massive muscles and heroically-proportioned cocks, that's what.
Ripped from the world of Varda, ZAHN is pulled into the realm of the LOST FANTASY HERO, where he is at a distinct disadvantage. Everything is so strange and unfamiliar to him, and getting back to Varda will mean working with JAMES, the hero of the land. The trouble is, James doesn't particularly like Zahn, and though the two are forced to work together, their relationship is anything but friendly. Still, united they will face bizarre and dangerous obstacles, as the ultimate goal is to get Zahn the Hell back to his home land and out of James' hair.
Written and illustrated by Iceman Blue (Camili-Cat: Mounted), this incredible team-up event can currently be enjoyed via Iceman Blue's membership site. Iceman is in the midst of releasing a quartet of pages monthly throughout the year. The final volume will be compiled and available as a printed and digital release through Class Comics by year's end. NOT to be missed!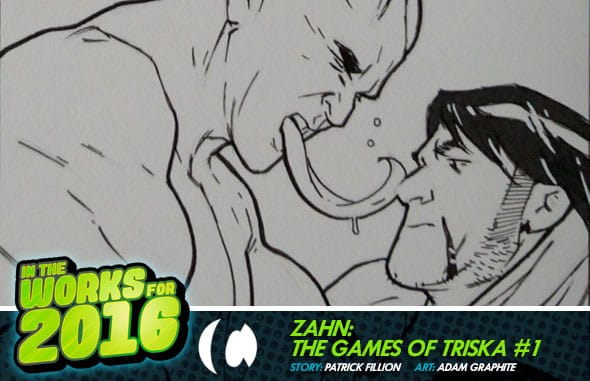 ZAHN: THE GAMES OF TRISKA
Story: Patrick Fillion
Art: Adam Graphite
Fan-favorite artist of gay erotic comics Adam Graphite (Greek Love) returns to the Class Comics Universe with his first comic story featuring the SON OF WINTER.
Zahn finds himself embroiled in a centuries-old conflict between the demon realm and the citizens of the Province of Triska. Zahn is conscripted, and the immortal soul of every living being in the land rests squarely on our hero's shoulders. With no choice but to assume the mantle of Triska's champion, he will have to face RAKKH, a brutal enemy and ancient demonic warrior. It's a battle to the near death in order to keep the forces of the Demon Realm from destroying Triska and every last one of her inhabitants.
Adam Graphite's stunning art style suits the Son of Winter beautifully. Zahn is deeply masculine and powerful by Adam's hand, and this comic is as arousing as it is action-packed. The Son of Winter might well have met his match in Rakkh!
Stay tooned for official release dates.

DEIMOS: TALES OF THE TARO DEMON #1
Stories: Patrick Fillion
Art: Alessio Slonimsky, David Cantero and Patrick Fillion.
This all new DEIMOS anthology series features three stories per issue, and this first collector's issue kicks off with some real stunners!
"Innocence", written by Patrick Fillion and illustrated by the incredibly talented Alessio Slonimsky making his Class Comics debut, finds Deimos on the run… with a demon baby in his arms! Deimos isn't exactly the fathering kind, but the survival of this infant is crucial to the fate of the world, and Deimos will stop at nothing to protect him. The Taro Demon is willing to lay down his life for this child. He may well have to, as his arch-nemesis BOB has resurrects one of Deimos' most feared adversaries to hunt him and his charge down.
"Inspiration" written by Fillion and illustrated by the wonderful David Cantero is a very different Deimos story and explores the softer side of the Taro Demon. Say, did you ever wonder what became of GRINN, that cool shape-shifting, weapon-becoming demon sidekick-thing that Deimos used to have? Yeah? Deimos too! A visit to a mystical artist might be the only way Deimos can locate his missing friend and shed light on his predicament.
And thirdly, due to massive fan demand, DEIMOS: TALES OF THE TARO DEMON #1 is rounded out by "Dead of Winter Part 2", written and illustrated by Fillion. For those of you who haven't yet seen this story, let's just say it pushes Deimos to his very sexual brink!
DEIMOS: TALES OF THE TARO DEMON #1 is slated for Spring 2016, with DEIMOS: TALES OF THE TARO DEMON #2 planned for mid 2016 release. The second issue will feature three ALL-NEW stories including "Demon Sport", written and illustrated by Patrick Fillion, "How to Train Your Demon" written by Fillion and raunchily illustrated by Alexander (Ridehard series) , and "Mantoy" written by Fillion and stunningly illustrated by Martin Chan (The Bromance).
Stay tooned to our website and be sure to sign up to our official newsletter if you haven't already done so as we'll bring you more updates, release dates and sneak peeks for all the above-listed titles and more throughout the year.