Deimos: Tales of the Taro Demon #1 is here!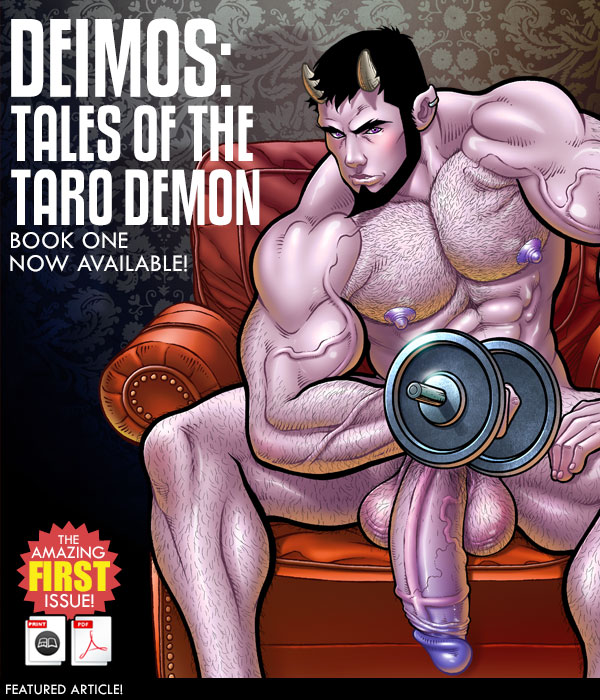 Class Comics is proud to present the first issue of our brand-new Deimos anthology series. DEIMOS: TALES OF THE TARO DEMON #1 is now available as a Print Edition and as Class Access Digital Edition.  This fantastic collector's first issue contains three incredibly hot and action-packed stories featuring everyone's favorite Taro Demon.
"Innocence", written by Patrick Fillion and illustrated by the incredibly talented Alessio Slonimsky making his Class Comics debut, finds Deimos on the run… with a demon baby in his arms! Deimos isn't exactly the fathering kind, but the survival of this infant is crucial to the fate of the world, and Deimos will stop at nothing to protect him. The Taro Demon is willing to lay down his life for this child. He may well have to, as his arch-nemesis BOB has resurrects one of Deimos' most feared adversaries to hunt him and his charge down.
"Inspiration" written by Fillion and illustrated by the wonderful David Cantero is a very different Deimos story and explores the softer side of the Taro Demon. Say, did you ever wonder what became of GRINN, that cool shape-shifting, weapon-becoming demon sidekick-thing that Deimos used to have? Yeah? Deimos too! A visit to a mystical artist might be the only way Deimos can locate his missing friend and shed light on his predicament.
And thirdly, due to massive fan demand, DEIMOS: TALES OF THE TARO DEMON #1 is rounded out by "Dead of Winter Part 2", written and illustrated by Fillion and available in print for the very first time. After leaving Mack's home deep in the woods outside Gateway City, right after the events of DEAD OF WINTER part 1, Deimos encounters an ancient order of Monks known as the "Brotherhood of the Illuminated". Cut off from civilization and oblivious to the world beyond the walls of their monastery, these "men of God" incapacitate Deimos with an ancient binding prayer and set out to punish him for his sins and evil deeds.
All of this plus pin-up art by JC Soto, Patrick Fillion and legendary GENGOROH TAGAME, this sensational first volume is a must for all Deimos lovers. This book contains 4 extra story pages over our usual comics, making it a stunning 28 pages of Deimos action! The CLASS ACCESS DIGITAL EDITION also includes a bonus 10 page sketch book art gallery with art by Alessio Slonimsky, David Cantero and Patrick Fillion, making the digital edition a whopping 42 pages!