A VERY KINKY CHRISTMAS MEATY #1 & #2 now available!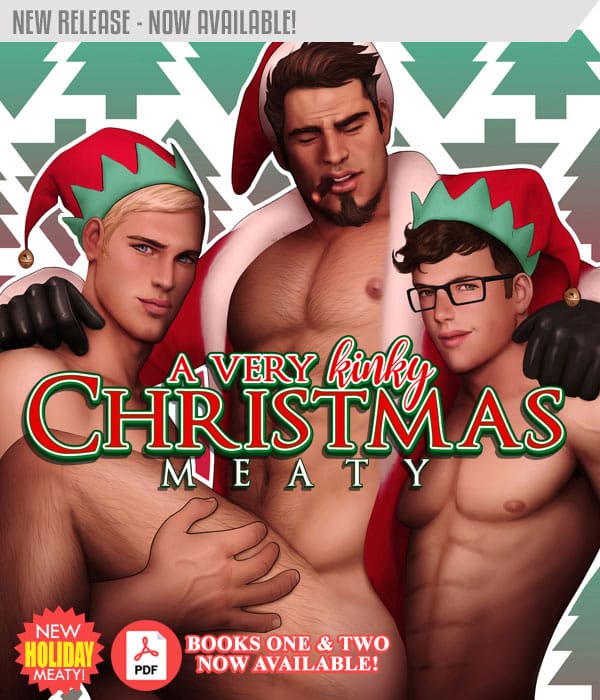 Oh CUM all ye faithful! The Class Comics "A Very Kinky Christmas" Meaty is here — two gorgeous, festively cum-drenched volumes of it!
'Tis the season to be naughty and nice, and this year we thought we'd call upon the Gay Erotic Comics and Arts community to help us throw one heck of a Christmas Party. Featuring the talents of over 60 ARTISTS, many of them new to our Meaty projects, Volume #1 and volume #2 of "A Very Kinky Christmas" brings all of your favorite Class Comics hunks together for the Holidays.
Where else can you find NAKED JUSTICE kissing ZAHN under the mistletoe? And what about TRIP stripping out of his Holiday Onesie, just for you? And don't forget the raunchy bondage XXXMas party that CAMILI-CAT is throwing for his best pals! And this is just the TIP of the ICEBERG!
Each volume is not only brimming with ice-melting hotness, but it also features a comprehensive biography section on all the creative people involved. That way you can check out more of their works by visiting their blogs, websites, Social Media pages, etc… "A Very Kinky Christmas" truly is the gift that keeps on giving.
You've been madly shopping for everyone on your list so far, now it's time to TREAT YOURSELF! Get yourself a gift now, and snap up your copies of "A Very Kinky Christmas" Volume #1 and "A Very Kinky Christmas" Volume #2! Let the HOLIDAY WANKING begin!
Here is a list of the artists that have created artwork for Hook-Ups! They range from the well known to brand new to the genre! We think you should check each and everyone of their websites out and follow them on twitter and instagram!