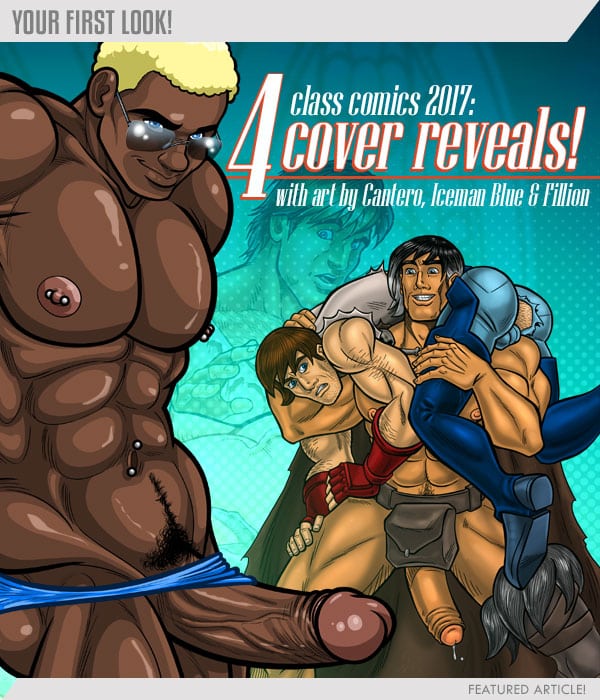 2017 promises to be a very exciting year here at Class Comics — we have a veritable TON of amazing new comics and surprises heading your way. Today we're very excited to reveal 4 glorious covers featuring art by DAVID CANTERO, ICEMAN BLUE and PATRICK FILLION.
BRIGAYDE #2 
The highly-anticipated second issue of the BRIGAYDE is on it's way, with more glorious art by David Cantero. The cover for this issue is an ominous one, and hints at a new villain that has some nasty things planned for our heroic hunks. Below is the official standard edition cover. The BRIGAYDE #2 will be available in print and digital comic formats. Both standard editions will sport this cover art.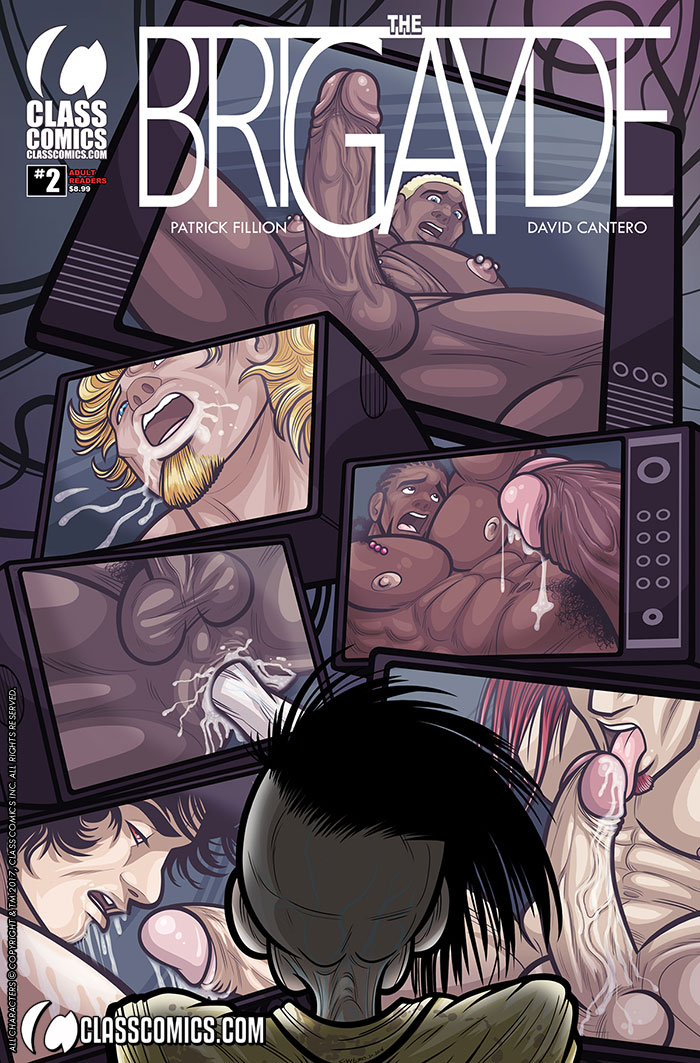 A SPECIAL EDITION of the BRIGAYDE #2 will be available as a digital exclusive. It will contain behind the scenes materials such as character designs, conceptual sketches and a slew of pin-ups. This version of the book features a simply mouth-watering cover, also created by David Cantero. The boys of the BRIGAYDE are a little more relaxed on this cover, lounging in the Summer heat by  their pool. Subsequently, this illustration is also the back cover of the BRIGAYDE #2 print special edition.
LOST FANTASY HERO v ZAHN #1
Collecting the entire run of the series, LOST FANTASY HERO v ZAHN is written and illustrated by Iceman Blue. Originally available to subscribers of Iceman's website, this amazing team-up is finally going to be available in its entirety both in print and as a digital comic. Iceman Blue's playfully naughty cover depicts James, the Lost Fantasy Hero himself, with his new pal from Varda, Zahn as they get to know one another better.
A variant edition of this issue will also be available featuring artwork by Zahn creator, Patrick Fillion. Fans will be able to buy the extremely limited Fillion Variant Cover edition in print only, and while quantities last. Featuring the Son of Winter in the grasp of the massively hung DRAGON LORD while James looks on, this variant cover pays perfect homage to this wonderful story conceived of by Iceman Blue.
We hope you enjoyed this little sneak peek at some of the goodies ahead. Stay tooned for more articles revealing more art and comics still to come in 2017.