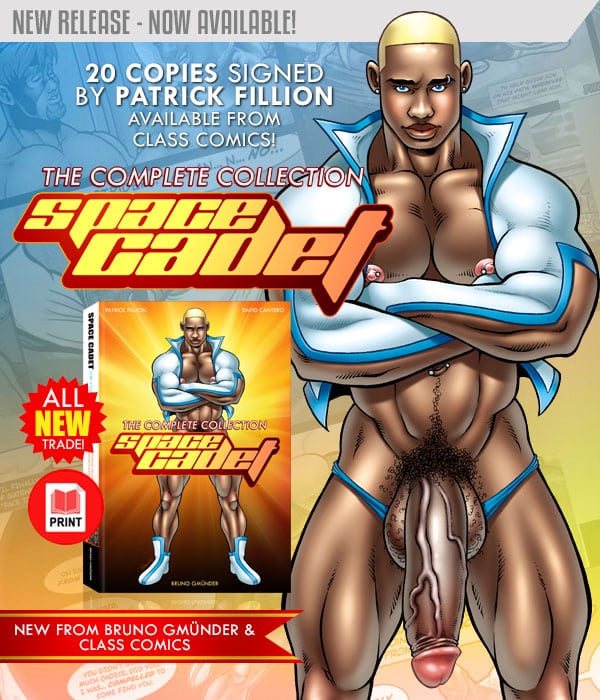 Hot off the press comes the incredible SPACE CADET: THE COMPLETE COLLECTION 208-page Trade Paperback!
Published by Bruno Gmünder, this MASSIVE collection is a MUST HAVE for any Class Comics fan! And right now, Class Comics has 20 advance copies up for grabs — and they're personally signed by PATRICK FILLION!
They say heroes are born, not made. That isn't the case with BYRON DURAND. For him, it was a little of both.
As the heroic SPACE CADET, Byron was born with an unwavering sense of justice and a profound need to fight for those who cannot fight for themselves. Through scientific advances, EMIL DURAND, Byron's father has made him into a powerful super-human, capable of harnessing cosmic radiation and transforming it into incredible energy.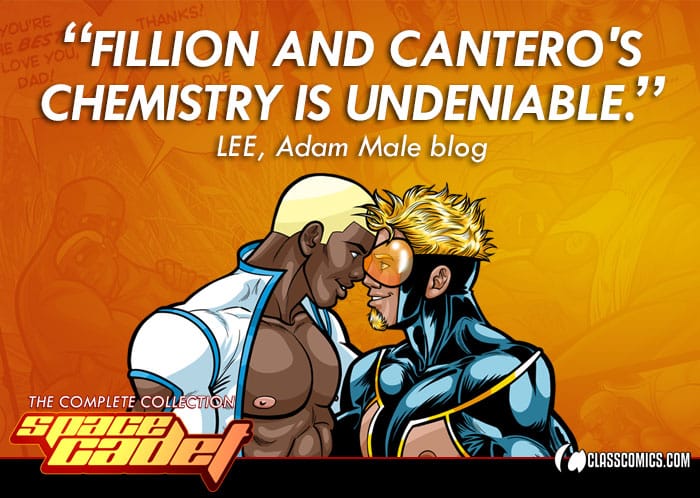 Now Byron uses all the power at his disposal to keep his beloved Gateway City safe from evil. But that is a mandate that often leads our young hero into a number of perilous situations. Since his first appearance in "The Incredibly Hung Naked Justice #2" in 2003, SPACE CADET has been beloved by Class Comics fans. His exploits and adventures have aroused the imagination of his many readers, and now every single SPACE CADET story created by Class Comics between 2003 to 2016 is available for the first time ever in one collected volume.
From his earliest battle with JACK THE STRIPPER, to his hook-up with the intrepid MAKO FINN, to his intensely sexual encounter with the alien entity called VOID, to the eve of his transformation into the all-new NAKED JUSTICE, SPACE CADET's wildest exploits are all here for you to discover or rediscover for the very first time ever.
Featuring stories written and illustrated by Patrick Fillion, SPACE CADET: THE COMPLETE COLLECTION also features breathtaking artwork by other Class Comics artists such as David Cantero, Bob Grey, Leon de Leon, Anthony Gonzales, Albron, Rubo, Lucky Sanford and Bryce Peters, along with colors by Nimbus and Hernán Cabrera to name just a few.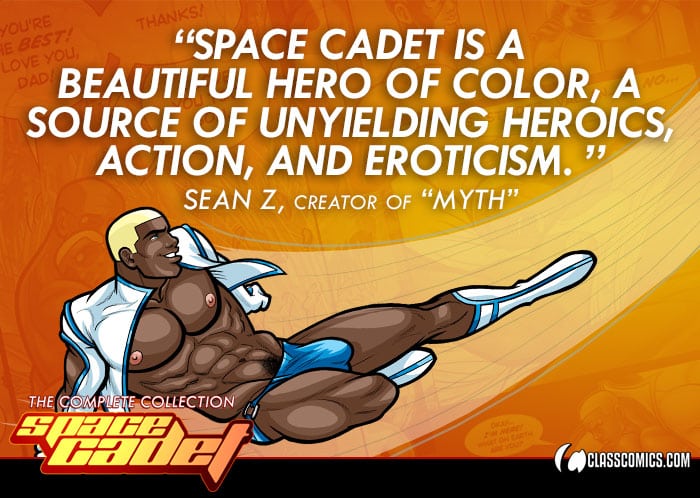 Brimming with insanely hot sex, out-of-this-world heroics, compelling stories and beautiful artwork, SPACE CADET perfectly merges the classic superhero genre with the trouser-tenting thrill of modern Gay Adult Comics.