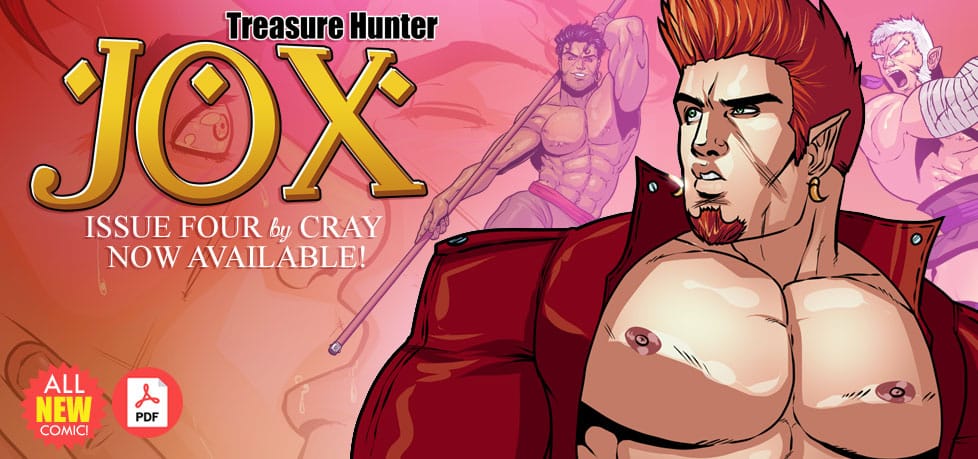 We're extremely pleased to announce that JOX: Treasure Hunter #4 is now available!
Following last issue's events, (in which JOX was knocked unconscious by GANYMEDE, a handsome assassin), our titular hero wakes to find himself naked and chained in a darkened room. It would seem his treasure hunting ways have aroused the attention of the wrong crowd, and now Jox is a wanted elf!
Ganymede has been hired to capture and deliver Jox to a mysterious client. However, Gany can't help but admire the hunky red head's scrumptious physique, and decides to give Jox one final ass pounding before taking him in.
Ever the big softy, Ganymede has a sudden change of heart. He decides to release Jox at the last minute, but this in turn lands HIM in major trouble. Now it's up to Jox to rescue Ganymede before it's too late! Will Jox be successful in his rescue attempt? There's only one way to find out!
We're not kidding when we tell you that series creator CRAY has outdone himself with this issue. It's his best one yet and it's even more packed with horny, hardcore fun than the previous three books, and that's saying something!
JOX: Treasure Hunter #4 is now available from Class Comics as a Class Access Easy PDF digital Download.