"WHO'S MY TOY?" Art Book is HERE!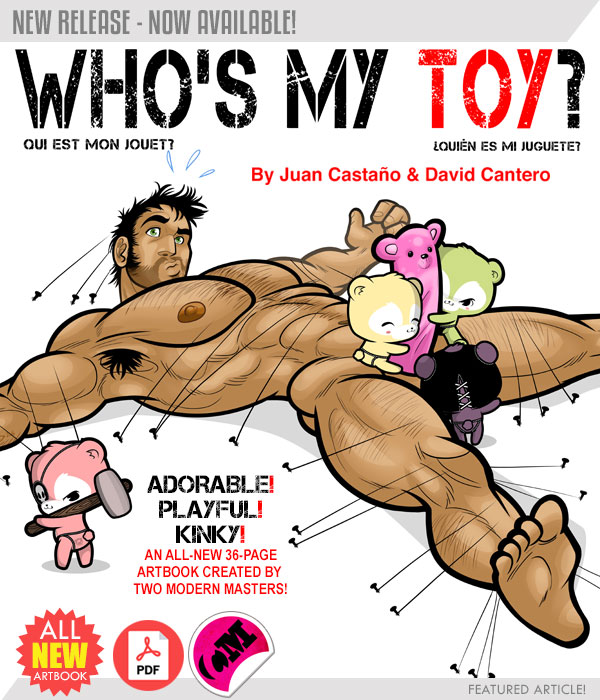 An all-new 36-page art book, "WHO'S MY TOY?" is a collaboration between Juan Castaño and David Cantero, two gay Spanish artists born in Cartagena. The illustrations in this collection were created as part of a joint exhibition and are collected in this volume for the very first time.
"WHO'S MY TOY?" turnins sexual roles and stereotypes onto their heads.  The artists have reversed the domination of these hunky men against adorable little animals. Depicting hunks like toys in the hands of these sweet little bears, creates funny and sexy situations.
Within these illustrations, sweetness is mixed with sensuality, as is the intention of showing that sexuality can be fun and entertaining.
With these whimsical illustrations, the artists have created a safe place to play, communicate and share. Indeed, they help us experience a vision of a more "intimate" and "human" sexuality.
The styles of Juan Castaño and David Cantero match perfectly, thanks to their precise lines and clean colors. A unique collaboration that we are very proud to present you!
Enjoy it and PLAY!!! Available as a Class Marketplace Easy PDF Digital Comic.
Meanwhile, you can get yourself the print version of the book from Sugoi Ediciones. There are only 100 copies available, and each is numbered and signed by the two artists!
Also, T-shirts featuring artwork from WHO'S MY TOY? are now available from the Huntees website. Get yours today!! :D