FIT as FUCK #1 is now available!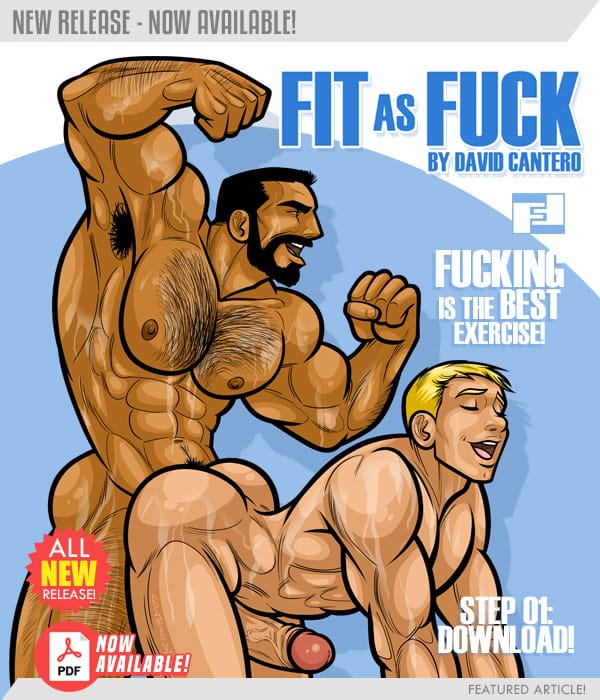 Are you ready for the ULTIMATE Gay Illustrated Workout Guide? David Cantero brings you FIT as FUCK, the hottest, most in depth exercise regimen that you can do with a partner or enjoy solo!
Containing 23 incredible exercises guaranteed to work out every muscle on your body between your head to your toes, focusing primarily on your penis, FIT as FUCK is a health enthusiast's dream come true.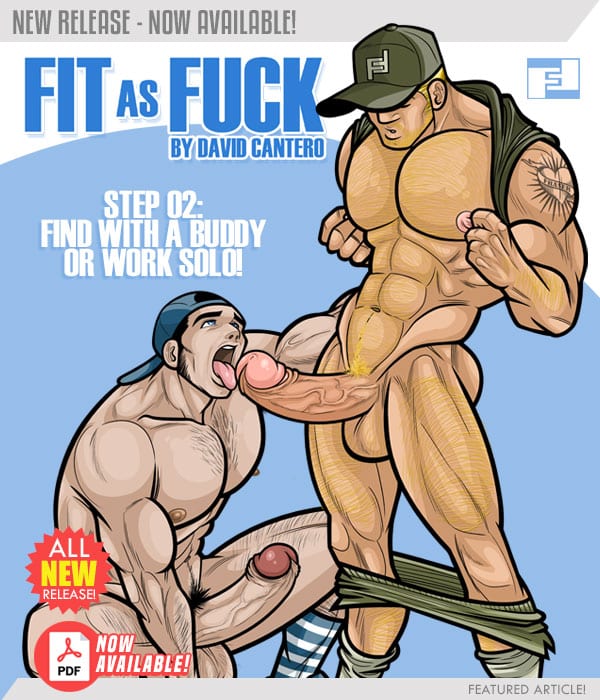 It's also an Gay Erotic Art enthusiast's dream come true, because every single page is dripping with heat, sweat and horny illustrated men, all just waiting to take you to that next level high.
So whether you download FIT as FUCK onto your tablet and take it to bed with you and your partner, or whether you enjoy a good solo masturbation with FIT as FUCK at your computer, one thing is for certain… FIT as FUCK is guaranteed to get you pumping… uhm… pumped!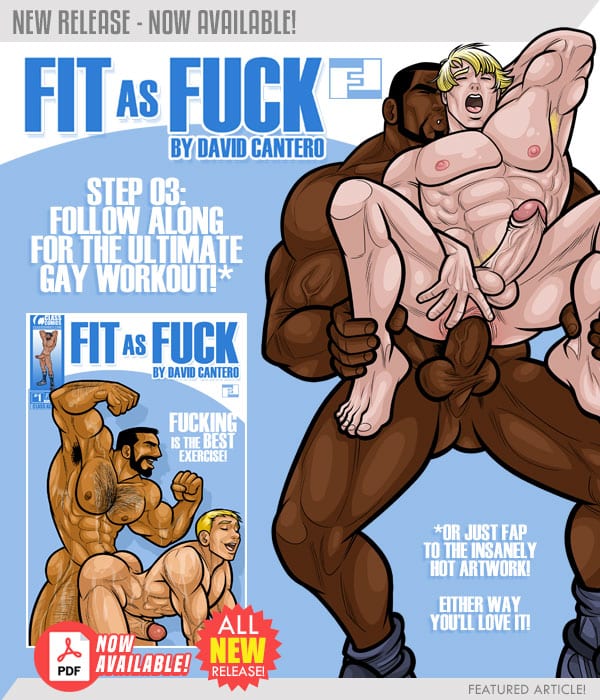 FIT as FUCK is available exclusively in digital format. Over 60 pages long, FIT as FUCK includes your complete illustrated Gay Workout Guide, as well as dozens of sketches and gallery pages, all created by David Cantero.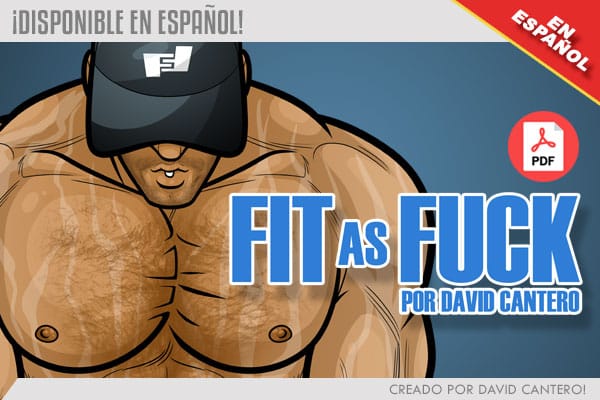 ¿Estás listo para la ÚLTIMA guía de entrenamiento ilustrado gay? ¡David Cantero te trae FIT as FUCK, el entrenamiento más caliente y completo que puedes hacer con un compañero o disfrutar solo!
Contiene 23 ejercicios increíbles garantizados para ejercitar cada músculo de tu cuerpo desde la cabeza a los pies, centrándose principalmente en tu pene, FIT as FUCK es el sueño de un entusiasta de la salud hecho realidad.
También es el sueño de un entusiasta del arte erótico gay hecho realidad, porque cada página está llena de calor, sudor y hombres ilustrados potentes, todo para llevarte al siguiente nivel.
Así que, que descargues FIT as FUCK en tu tableta y te lo lleves a la cama contigo y tu pareja, o lo disfrutas con una buena masturbación en solitario con FIT as FUCK en tu computadora, una cosa es cierta… FIT as FUCK está garantizado para hacerte hinchar … uhm … ¡Bombeando!
FIT as FUCK está disponible exclusivamente en formato digital. Con más de 60 páginas, FIT as FUCK incluye tu guía de ejercicios gay completa ilustrada, así como docenas de bocetos y páginas de galerías, todos creados por David Cantero.
Êtes-vous prêt pour le guide ULTIME illustré du Gay Workout? David Cantero vous propose FIT as FUCK, le régime d'exercice le plus hot et le plus intense au monde! Profitez-en avec un partenaire ou en solo!
Contenant 23 exercices incroyables garantis pour travailler tous les muscles de votre corps de votre tête jusqu'aux orteils, en se concentrant principalement sur votre pénis, FIT as FUCK est le rêve d'un passionné de santé devenu réalité.
C'est aussi le rêve d'un passionné d'art érotique gay, parce que chaque page dégouline de chaleur, de sueur et de beaux mecs illustrés, qui n'attendent que de vous emmener au niveau supérieur.
Alors, que vous téléchargiez FIT as FUCK sur votre tablette et que vous l'emmeniez au lit avec vous et votre partenaire, ou que vous profitiez d'une bonne masturbation en solo avec FIT as FUCK sur votre ordinateur, une chose est certaine… FIT as FUCK est garanti de vous faire gonfler … hum … Pomper!
FIT as FUCK est disponible exclusivement en format numérique. Plus de 60 pages, FIT as FUCK comprend votre guide d'entraînement gay complet illustré, ainsi que des dizaines de croquis et des pages de galerie, tous créés par David Cantero.