Class Comics is proud to announce that DEIMOS #3 – the long-awaited final issue in the Deimos series – has arrived at last! It's available in a Print Edition, a Special Digital Edition and a Standard Digital Edition!
In the not too distant future, the once impressive Gateway City is now a ravaged battleground in the war between Heaven and Hell. Though he swore he'd never return, Mack MacKenzie dares to venture into the once sprawling mecca. Mack has sensed that Deimos is in terrible danger and aims to help him at any cost. Unfortunately for Mack, his bravery may spell his doom.
Meanwhile, Deimos and Sethan desperately try to escape Bob's grotesque henchman, Obscene. Sadly for them, the monster's venom course through their veins, and both the Taro Demon and his accomplice are severely weakened, making them perfect prey for Obscene.
Defeated, stripped and ravaged, Deimos can only await his fate as dozens of horny demons use him as a cumdump. Soon, our hero gets dragged to the very center of Hell where he must endure a terrible ordeal and eventually face Bob, who plans to execute him for turning his back on his demonic roots.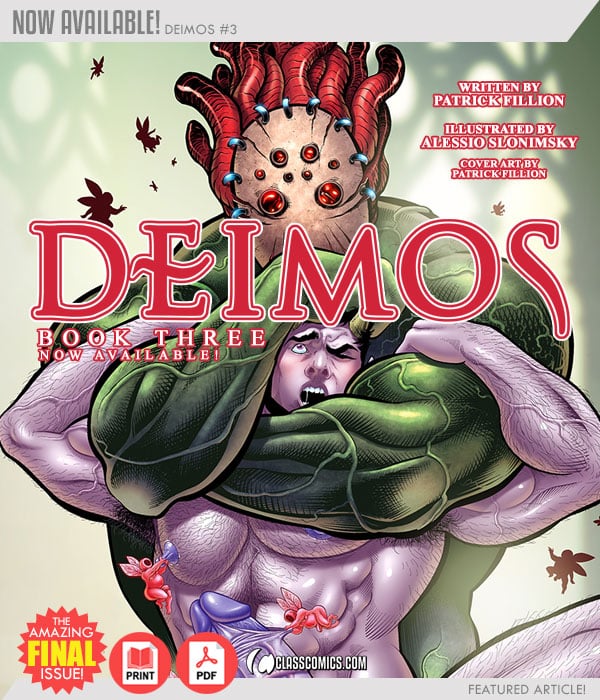 Written by Patrick Fillion and breathtakingly illustrated by Alessio Slonimsky (Good Sports, Deimos: Innocence), DEIMOS #3 concludes this mini-series in a bold and cathartic fashion, spinning our beloved, hunky Taro Demon in an intense and unexpected new direction. Exterior and interior cover art by Deimos creator, Patrick Fillion.
The print edition of Deimos #3 is a LIMITED EDITION printed comic. The first 100 print copies are personally autographed by Patrick Fillion! The Deimos #3 Special Digital Edition contains 16 pages of bonus features, including behind the scenes info on the book, never before seen Logan artwork, and more. The Deimos #3 Standard Digital Edition contains the core 24 page story.