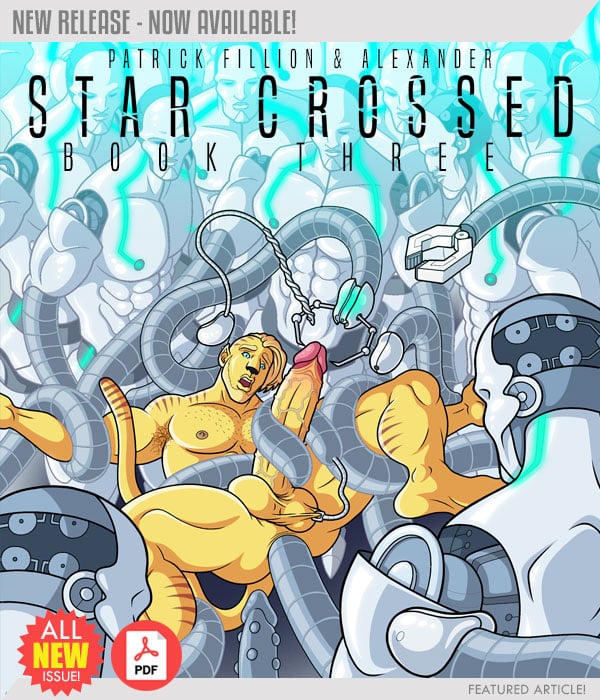 Class Comics is thrilled to present Star Crossed #3, which continues the galactic adventures started in Star Crossed #1 and Star Crossed #2!
The sudden arrival of a gynormous starship sends the crew of the Huntress into a bit of a panic. Manned by the mysterious, robotic "Biologists", this gargantuan vessel quickly overpowers all of the systems on the Huntress, rendering her powerless, a motionless husk of metal floating aimlessly in deep space.
Captain Jung, Disco, Flamer, Locus and Ezzet may be adventurers and bounty hunters by trade, but nothing can prepare them for what the Biologists have in store for them. One by one, our heroes are teleported aboard the bizarre bio-ship, there to learn that they are all to be catalogued as some of the galaxy's finest male specimens.
Meanwhile, for some reason, Puma, the latest addition to the Huntress' crew, has not been abducted by the Biologists. Frantically, the Felinoid labors to repair as many systems as he can and return power to the ship. Suddenly, he realizes that he is not alone after all. One of the Biologists has come an board, eager to enlist Puma's assistance. But this uninvited guest is a few bolts short of a hard drive, and Puma soon realizes that working with this robot will mean using more than his head.
Illustrated by ALEXANDER (Super Hung, Ridehard) and written by PATRICK FILLION (Zahn, Love Lost) this incredible third issue precipitates our heroes into a sexual space odyssey of monumental proportions. Prepare yoursleves for the wildest, horniest most INSANE issue of STAR CROSSED to date!
STAR CROSSED #3 features an all-new 20-page comic story, as well as dozens of gloriously hot pinups by series illustrator ALEXANDER, as well as by guest artists such as DAVID CANTERO, BYRON POWER, NICO BRUNET, JACOB MOTT and PATRICK FILLION. Also included is a "silent edition" of the main comic story. This is a fantastic volume no matter which way you slice it! Make sure you've read Star Crossed #1 and Star Crossed #2 already!