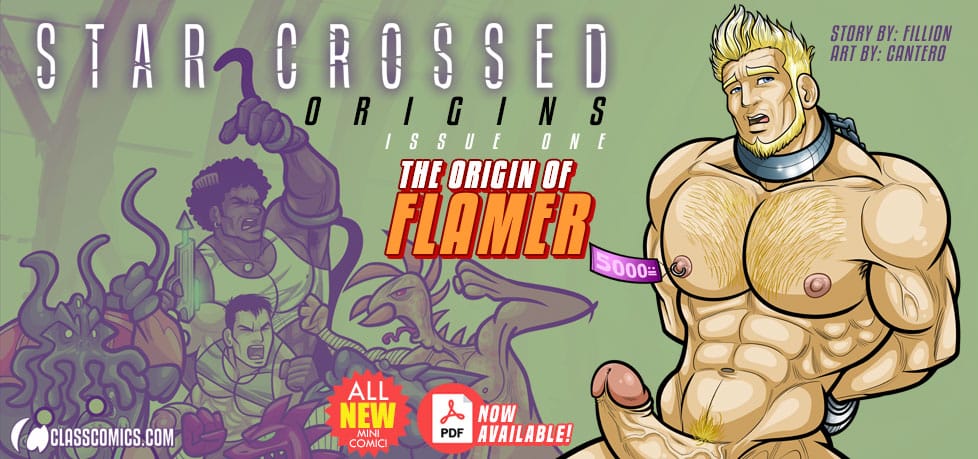 Who doesn't love an "origin" story? Well, we're giving you the events that made that beautiful blonde lad… into the Flamer that he is today!
Imagine a small-town guy, stuck in a dead-end job, unable to escape his family legacy. Now imagine that there's something so special about him that he's caught the eye of a strange, interstellar talent scout. If you think that's where it ends, you'd be dead wrong.
Flamer's origin is a story of growing up Gay that a lot of us can relate with. The part where he becomes a space travelling Bounty Hunter, maybe not so much, but that doesn't make the tale of how he gets there any less enjoyable… or horny as heck!
Written by PATRICK FILLION and beautifully illustrated by DAVID CANTERO, STAR CROSSED: ORIGINS #1 featuring FLAMER is an intimate look at this sexy character, whose history and backstory fans have been hungering to see for years.
This fantastic mini comic is 11 pages of fresh new content, and is accompanied by a beautiful 16-page gallery of FLAMER images, created by artists such as Alexander, David Cantero, Byron Power, Tom Cray, Inmomakuro, Leon de Leon and Patrick Fillion. It's also included in the Star Crossed – The Collection – Volume One in both Print and Digital editions!