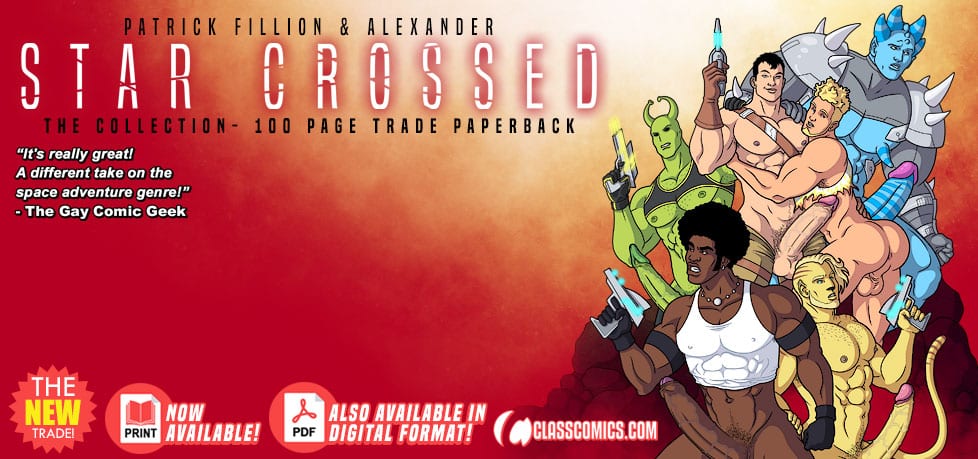 BECAUSE YOU DEMANDED IT, we've collected the first three issues of our wildly popular STAR CROSSED series AND included the all-new STAR CROSSED: ORIGINS #1 comic in this fantastic 100-page collected Trade Paperback edition which is available in both Print and Digital editions! All PRINT COPIES sold in October 2018 will be hand signed by Patrick Fillion.
STAR CROSSED: THE COLLECTION Volume 1 follows the adventures of CAPTAIN JUNG, DISCO, FLAMER and LOCUS, hung and hunky bounty hunters by trade, as they embark on all kinds of insanely raunchy space adventures aboard their star cruiser the HUNTRESS. Along the way, our intrepid crew meet EZZET and KRUEG, a pair of horny Tolarian twins out for a good time, and PUMA, a Felinoid stud with vital information to sell.
Jung and his pals end up in the clutches of the BIOLOGISTS, androids bent on adding these galaxy-faring hunks to their massive archive of male specimens. Meanwhile, the evil DR. PUPAE hatches a plan to exact revenge on his enemies and strikes an alliance with a most unlikely ally.
Also included in this volume, STAR CROSSED: ORIGINS #1 features FLAMER's backstory and sheds a deeper light on the muscular blonde adventurer. You may be stunned by his humble beginnings, but the twists and turns in his path will certainly surprise and perhaps even shock!
In print for the very first time ever, the STAR CROSSED series is written by PATRICK FILLION and lovingly illustrated by ALEXANDER. DAVID CANTERO illustrates the ORIGINS issue, and with a veritable armada of guest pinup artists, this trade is a great way to enjoy this dynamic series in one satisfying gulp!
Gorgeously printed and filled with some of the hottest man-on-man-on-extraterrestrial, cum-soaked, intergalactic sex action, STAR CROSSED: THE COLLECTION volume 1 is a must for any Class Comics fan. Extremely limited to 250 copies, this trade is sure to fly off our shelves at light speed, so don't miss out.
P.S. Also available at a discount is our BACKWARDS EDITION! The first printing of this beautiful trade paperback was assembled with the interior pages backwards at press! It's kind of like a Manga edition! Otherwise perfect in every way, you'll have to read this version from the back to the front, but we're selling it at half off the cover price! Destined to become a collector's item, this version is limited to 100 copies.