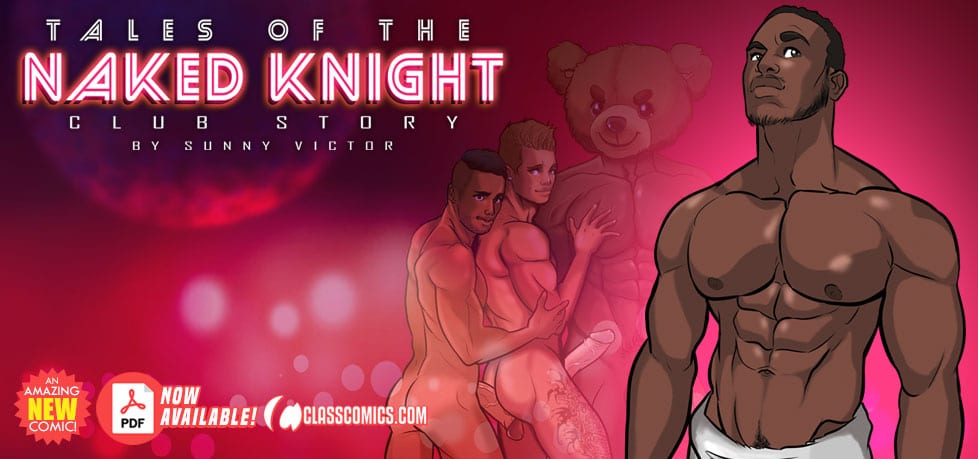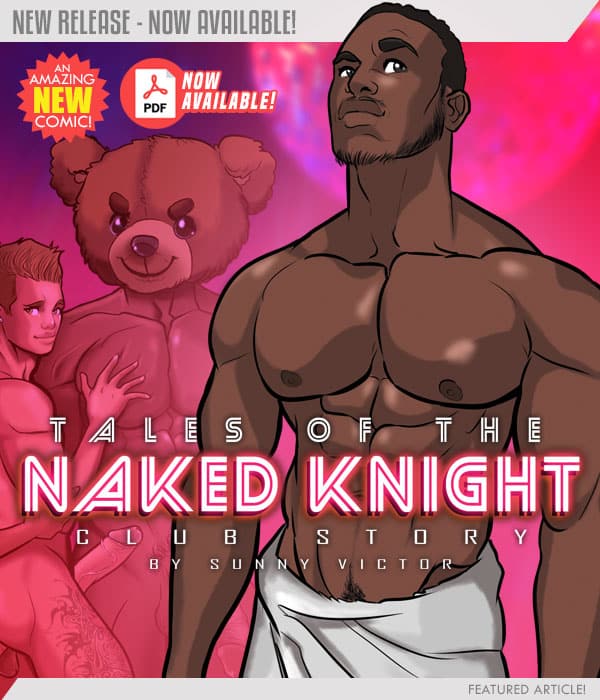 We're thrilled to announce the release of Tales of the Naked Knight #1 : Club Story! It's a 32 page stand alone comic, written and illustrated by Sunny Victor, that explores the fun everyone was having at "The Naked Night" within Naked Knight #1!
If you wondered about that enormous Teddy Bear, the twink and his daddy, or the hot Go-Go dancer… read on!
Find out why Tommy and Gordon, two outstanding police officers and also great buddies, spend their evenings at the club wearing nothing except a teddy bear mask. Tonight, It's Gordon's turn to wear the outfit and have all the fun that comes with it.
Meanwhile, Tommy recognizes Kilo, an old flame, who is now a Go-Go dancer, model, and porn star. It seems he's come a long way since they made passionate, gritty, love on the beach.
In the sauna, Junior gets into trouble for paying too much attention to the cute Teddy Bear, and Daddy is forced to lay down the law. It's almost as if Junior wanted to get into trouble…
When the lights go out and beasts attack, Kevin gets his first taste of action, even if the cops don't believe he's up to the job. You'll find out more about Dylan's journey and where it will go from here, including catching a glimpse of some divine creatures that are in our lad's future!
While you don't need to have read Naked Knight #1 or Naked Knight #2 to enjoy Tales of the Naked Knight #1: Club Story, they sure add to the fun!